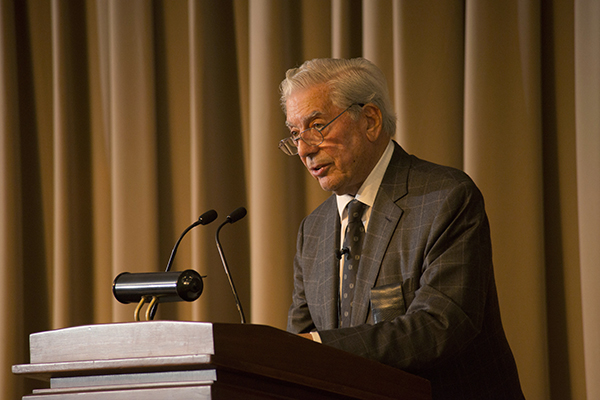 Literary laureate
Nobel Prize winner Mario Vargas Llosa discusses his writing process
10:03 p.m., Oct. 31, 2013--Peruvian writer Mario Vargas Llosa, the 2010 Nobel Laureate in Literature, told a full house in the University of Delaware's Clayton Hall on Thursday evening that when he sits down to write a novel, the process "is fascinating and mysterious, but it is not fun."
As a writer, he said, "One is willing to take advantage of the best and worst of himself and the people around him," all to find the kinds of real, personal experiences with which his works of fiction begin. But after outlining a story based on those actual experiences, fantasy and imagination come into play to create the final work, he said, calling the initial real-world event or person "only the starting point, not the point of arrival." 
Fulbright awards
Three University of Delaware students and an alumna have received word this spring that they will travel abroad as part of the newest class of Fulbright Student Program award winners.
Peace Corps plans
Two University of Delaware students, John McCarron and Bridgette Spritz, have been selected as Peace Corps volunteers and will serve in Ghana and Rwanda.
Vargas Llosa spoke on the theme "A Writer and His Demons" as part of the "Transnational Encounters" visiting authors series made possible through a cornerstone grant from the College of Arts and Sciences' Interdisciplinary Humanities Research Center.
On Friday, Nov. 1, in the Roselle Center for the Arts, he will read from his work and sign books at two additional events that are free and open to the public. He will read excerpts in Spanish at 10:30 a.m. and in English at 2:30 p.m.
Vargas Llosa is one of the leading writers and intellectuals of our time. In 2010, when officials of the Swedish Academy announced his Nobel Prize in Literature, they cited "his cartography of structures of power and his trenchant images of the individual's resistance, revolt and defeat."
With more than 150 literary prizes and nearly 50 honorary doctorates, he is the author of over 60 works, including novels, essays, short story collections and dramatic works, and he publishes regular political columns in major American and European newspapers. His themes treat issues related to Peruvian and Latin American society and also address such fundamental problems of the human condition as the yearning for happiness, the presence of evil in the world, boundless ambition and the secret desires of ordinary people.
Some of his many works that have been translated into English are his earlier novels The Time of the Hero, The Green House, Conversation in the Cathedral and Captain Pantoja and the Special Service. On Thursday at UD, Vargas Llosa talked specifically about those books and the process he went through to write each one.
His first novel, The Time of the Hero, was based on his experience as a teenager in a harsh military academy, where he said he is now grateful for having learned about Peruvian social structure and about violence — themes he has incorporated into various writings. In writing The Green House while living in Paris, he said, nostalgia for his home played a key role, as did narrative techniques he learned from reading William Faulkner. Conversation in the Cathedral drew on political and social themes of living in a corrupt dictatorship, while his next novel, Captain Pantoja and the Special Service, was the first time he incorporated humor into his writing.
Overall, fiction allows both writers and readers to "go beyond the limits" of reality, Vargas Llosa said. "Novels may not make us happy, but they make us…more complete," he said.
In addition to the Nobel Prize, he has won numerous awards for his writing, including the Miguel de Cervantes Prize, the PEN/Nabokov Award and the Carlos Fuentes International Prize for Literary Creation in the Spanish Language.
Vargas Llosa's appearances at UD have been organized and hosted by the Department of Foreign Languages and Literatures and the Department of English, with additional sponsorship from the Center for Global and Area Studies, Institute for Global Studies, English Language Institute, Department of Political Science and International Relations, Department of History, Student Life, the Center for Black Culture and the University of Delaware Library.
Article by Ann Manser
Photo by Duane Perry