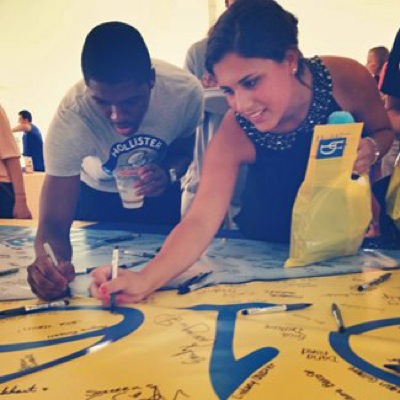 UD Bucket List
Create classic Blue Hen memories shared by generations with this guide
1:17 p.m., Oct. 23, 2013--All University of Delaware students are encouraged to complete the UD Bucket List, formulated by both students and alumni with the intent of ensuring all Blue Hens share experiences that are unique to the University before they graduate.
Sponsored by the Student Alumni Ambassadors and the Office of Alumni Relations, the list encompasses 60 experiences that have been broken down into 17 gold and 43 blue items to reflect 1743 as the year to which the University traces its origins.
From graduates, faculty
As it neared time for the processional to open the University of Delaware Commencement ceremonies, graduating students and faculty members shared their feelings about what the event means to them.
Doctoral hooding
It was a day of triumph, cheers and collective relief as more than 160 students from 21 nations participated in the University of Delaware's Doctoral Hooding Convocation held Friday morning on The Green.
Gold items are designed for seniors and alumni, while the blue items can be completed as an undergraduate. A photograph to show proof of the completed item may then be submitted to the UD Bucket List website.
There are numerous events occurring throughout the semester around campus that appear on the Bucket List, including Bucket List Days. On these days, Student Alumni Ambassadors will be stationed at certain locations according to items on the list to take people's pictures and often hand out prizes. There will also be Bucket List tables at events for anyone to learn more about how to get started. 
To get involved now and learn more information about the list, visit the website, which is now compatible with mobile phones, and tweet pictures upon completion of items on the list using the hashtag #UDBucketList.