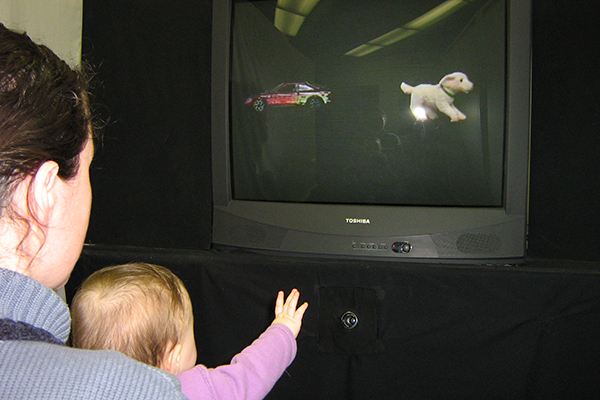 Skype me!
Responsive interactions help toddlers learn language
9:29 a.m., Oct. 8, 2013--Young children readily learn words from their parents, grandparents and child care providers in live conversations, but learning from video has proven more difficult. A new study questioned why and found that it's the responsiveness of the interactions that's key: When we respond to children in timely and meaningful ways, they learn—even when that response comes from a screen.
The study, by researchers at the University of Washington, Temple University and the University of Delaware, appears in the journal Child Development.
Chronic wounds
UD's Millicent Sullivan and Kristi Kiick have received a $1.4 million grant from the National Institutes of Health for research that could provide a new approach to the treatment of chronic wounds.
Prof. Heck's legacy
The American Chemical Society is highlighting the legacy of the late Nobel laureate Richard Heck, the Willis F. Harrington Professor Emeritus of Chemistry at the University of Delaware with a digital tribute on its publications website.
"This study suggests that children really need parents to respond to their little noises and vocalizations if they are to learn language. Being responsive to children even before they start talking is really important!" said Roberta Golinkoff, who is a professor of linguistics, cognitive science and psychology, and the Unidel H. Rodney Sharp Chair in the School of Education at UD. 
Golinkoff was a co-author on the study, with Kathy Hirsh-Pasek, professor of psychology at Temple University, and Sarah Rosenberry at the University of Washington. 
In the study, three dozen 2-year-olds were randomly assigned to learn new verbs in one of three ways: training with a live person; training through video chat technology such as Skype that allows audio and video interaction via screen between users at different locations; and watching a prerecorded video of the same person instructing a different child who was off screen and thus out of synch with the child in the study.
The results reveal that children learned new words only when conversing with a person and in the live video chat, both of which involved responsive, back-and-forth social interactions. They didn't learn the new words through the prerecorded video instruction, which was not responsive to the child.
Children who learned in the two environments that involved real-time social interaction even used the new words to label the actions when different people performed them.
Funding for the study came from the Eunice Kennedy Shriver National Institute of Child Health and Human Development and the National Science Foundation.
Article adapted with permission from the Society for Research in Child Development Inc.