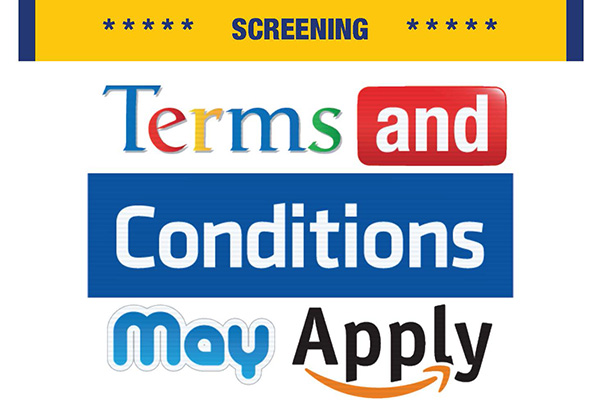 Nov. 6: 'Terms and Conditions May Apply'
National Agenda series to screen film on privacy issues in digital world
10:05 a.m., Oct. 25, 2013--The University of Delaware National Agenda series will present a special screening of the documentary Terms and Conditions May Apply at 7:30 p.m., Wednesday, Nov. 6, in Mitchell Hall. 
Directed by Cullen Hoback, the film explores issues of privacy in an increasingly digitized world, including what corporations and the government have learned about individuals and their interests based on a person's Internet activities.
June 5: Blue Hen 5K
University of Delaware graduates planning to attend Alumni Weekend are encouraged to register for the annual Blue Hen 5K walk and run, which will be held Sunday morning, June 5.
June 6-9: Food and culture series
The 20th annual June Lecture Series at the Osher Lifelong Learning Institute at UD in Wilmington will be held June 6-9. Titled 'June a la Carte,' this year's program focuses on great political documents, feminism, world politics and a Newark cuisine sampler.
Lindsay Hoffman, associate professor in the departments of Communication and of Political Science and International Relations, said that the film describes how corporations use and misuse consumer data, as well as how people's digital identities are managed by technology companies.
"Although news about the National Security Agency (NSA) leaks, Edward Snowden, WikiLeaks and Bradley Manning has been ubiquitous over the past few months, some of the underlying issues associated with information privacy online are difficult to understand," Hoffman said. "The documentary also discusses the implications for modern society when the government can search citizens' data for signs of a possible threat."
Because so many UD students rely on social media and information technology, Hoffman said the film relates directly to their everyday experiences. 
"The documentary can serve to enlighten them on current issues in the news," Hoffman said. "It's relevant to all students because we download apps, tweet and update our statuses often without knowing where that information goes and how long it will be stored."
Students in Hoffman's Digital Technology and Politics (COMM 306) and Politics and the Media (COMM/POSC340) courses have been discussing the film, which opened in San Francisco in August, and plan to attend the screening.
"Since hearing about this film, I've noticed that when I'm downloading simple apps, the terms and conditions give them access to my calls, location, even my contacts," said Kevin Bree, a senior political science major, said. "It's weird -- why would a battery or flashlight app need that information."
The National Agenda program also will present "Delaware and the Nation" at 7:30 p.m., Wednesday, Oct. 30, in Mitchell Hall.
The event will feature a timely report from the University's Center for Political Communication about how Delaware fits into the national portrait of politics and human development.
National Agenda is sponsored by the Center for Political Communication and the William P. Frank Foundation of Delaware. 
Article by Jerry Rhodes