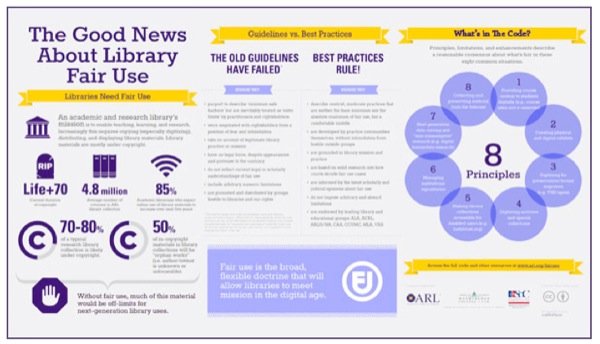 Fair use code
Library promotes 'Code of Best Practices in Fair Use for Academic and Research Libraries'
10:38 a.m., Oct. 28, 2013--The University of Delaware Library has announced that copies of the widely endorsed and eminently practical "Code of Best Practices in Fair Use for Academic and Research Libraries" are available for UD faculty and staff upon request. 
If any member of the faculty or staff would like a copy, they may contact Nora Bonsall, administrative assistant II, via email at nora@udel.edu or via the telephone at 831-2231.
June 6: UDid It! Picnic
All UD faculty and staff members are invited to attend the annual UDid It! employee appreciation picnic, set from 11 a.m.-1:30 p.m., Monday, June 6, on The Green.
2FA protects you
If you are using two-factor authentication (2FA), even if a hacker has your password, your information is probably safe.
Copyright issues arise frequently on university campuses with regard to publishing, teaching and various creative activities. While copyright exists to provide strong protection for creative work, the rights of copyright owners are limited. 
One key limitation is the doctrine of "fair use." Fair use is the right to use copyrighted material without permission under some circumstances. The fair use doctrine is not described in specific terms by law, and the task of determining whether any use is likely to be considered fair use requires thoughtful evaluation of the facts, law and norms of the relevant community.
The distinction between what is fair use and what is infringement is not always clear or easily defined and is determined by the circumstances. This lack of specificity creates uncertainty about when fair use is applicable. 
For the academic community, the ability to take advantage of the provisions of fair use is crucial and allows faculty and librarians to use and provide access to a vast array of material and services. It is, therefore, important to understand how fair use may be used appropriately.
The Code of Best Practices in Fair Use is facilitating the use of fair use in colleges and universities around the country. It identifies eight sets of common current practices in the use of copyrighted materials and discusses the application of fair use to each of these practices. Several of these activities are particularly relevant to faculty members, especially in their roles as teachers.
The infographic The Good News about Library Fair Use, prepared for the Association of Research Libraries (ARL) and American University's Washington College of Law and School of Communication, tells the story of library fair use and the Code of Best Practices in Fair Use for Academic and Research Libraries in a clear and compelling way. The infographic is available at this website.