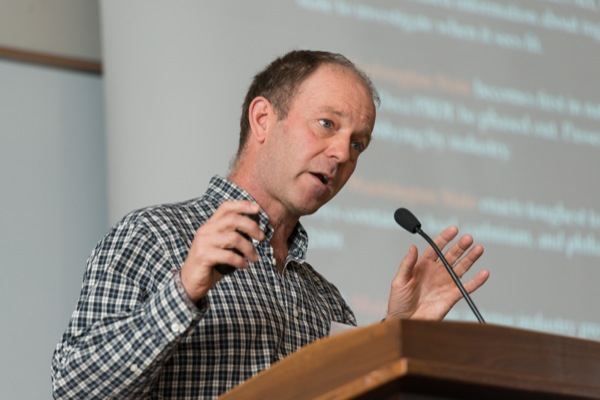 UDARF luncheon
UD professor shares environmental concerns with retired faculty
9:01 a.m., Oct. 11, 2013--Before reaching for that next candy bar or can of paint, University of Delaware professor McKay Jenkins advises reading the label carefully to make sure that what it's made of won't hurt you.
Jenkins, Cornelius A. Tilghman Sr. Professor of English, made the recommendation during a University of Delaware Association of Retired Faculty luncheon held Oct. 1, in Clayton Hall. 
'Resilience Engineering'
The University of Delaware's Nii Attoh-Okine recently published a new book with Cambridge University Press, "Resilience Engineering: Models and Analysis."
Reviresco June run
UD ROTC cadets will run from New York City to Miami this month to raise awareness about veterans' affairs.
The author of What's Gotten into Us: Staying Healthy in a Toxic World and co-developer of an interdisciplinary minor in environmental humanities, Jenkins described his personal wake-up call on the topic and what he has learned since he began working on the book, which was published by Random House in in 2011.
"Seven years ago I went to see a physician because I thought I had come up with some sort of running injury," Jenkins said. "An MRI indicated that I needed to see an oncologist right away because I had a tumor the size of a baseball in my abdomen."
In the hospital hours away from the operating room, Jenkins recalled that a group of public health researchers showed up out of the blue asking if they might ask some questions regarding the kinds of chemicals to which he might have been exposed. 
"They were not talking about industrial chemicals, but the ones I might be in contact with during my daily routine," Jenkins said. "They asked me several questions, and I went in for the surgery and woke up a few hours later with both my wife and my surgeon standing at the foot of my bed smiling." 
While thankful that the tumor was benign, the researcher's queries piqued his curiosity about the relationship between personal health and the environment.
"What were they asking me about?" Jenkins said. "What was this chemical exposure thing all about?"
For the book's first chapter, "The Body," Jenkins interviewed volunteers who participated in a body burden test, where their blood, hair and urine samples were examined in a laboratory to determine what kinds of chemicals had migrated into their bodies.
"This was not about chemicals in their workplace or their environment or drinking water, but stuff in their tissues," Jenkins said. "These studies have been done all around the country and it turns out that no matter how many chemicals researchers look for, 100 percent of the people tested have 80 percent of these chemicals in their bodies." 
In the next chapter, "The Home," Jenkins invited a toxicologist to go through his house room by room and point out the presence of chemicals in products that find their way into most domestic living spaces.
"I had dozens of cans of old paint and varnish and paint thinners and caulking and grout and stuff in my basement," Jenkins said. "He asked me if I ever thought about the fact that all those paint cans were directly underneath the kitchen where my kids eat every day."
Jenkins said there is plenty to be concerned about outside the home, as well, including big-box stores whose shelves are stocked with items containing carcinogens, some bearing lists of ingredients and others offering no information about the chemicals in the products.
"If you look closely, you'll find that there are products labeled carcinogenic in the automotive section, but not so in the cosmetic section," Jenkins said. "They both might contain carcinogenic elements, but many of the cosmetic items are not required by law to list them." 
The water from the taps in homes and offices also contain many elements that resist treatment, Jenkins said, some with traces of prescribed drugs. 
America's obsession with having the perfect lawn also has led to the use of chemical intensive treatment products around homes and corporate spaces, he said. 
"About 27 trillion pounds of petrochemicals are made in or imported by the United States yearly," Jenkins said. "They show up in more than 80,000 products turned out by a $637 billion industry." 
When it comes to regulating the production and use of petrochemicals, the United States lags far behind Canada, Europe and the Scandinavian countries, Jenkins said. 
"What this says about us is that we care more about industrial profits than we do about public health," Jenkins said. "The fundamental difference between those places and here is that public health there trumps industrial profits." 
Rather than just throwing up their hands in resignation, Jenkins said concerned consumers might begin by buying food items made with recognizable, listed ingredients.
"If you want your house to smell like an apple pie, bake an apple pie," Jenkins said. "You don't need to 'spray' apple pie around the house." 
Jenkins also suggested an old school alternative to avoid preparing food in chemically coated nonstick cookware. "There's a new invention that keeps things from sticking in a pan -- it's called olive oil," Jenkins said. "You can get a stainless steel pan and put some olive oil in it."
Jenkins also suggested using the power of the purse when buying cleaning supplies, cosmetics and other personal care items.
"You want to reward companies that are honest with you," Jenkins said. "If something doesn't have a label that identifies what's in it, don't buy it."
Jenkins noted that world religions have much to offer in helping humans rethink the connection between consumption and the natural world. 
"There is the sheer joy of rediscovering ancient ways of being in the world," Jenkins said. "Environmental humanities is all about taking this philosophical stuff and putting it into practice as part of our daily routine." 
Article by Jerry Rhodes
Photo by Evan Krape