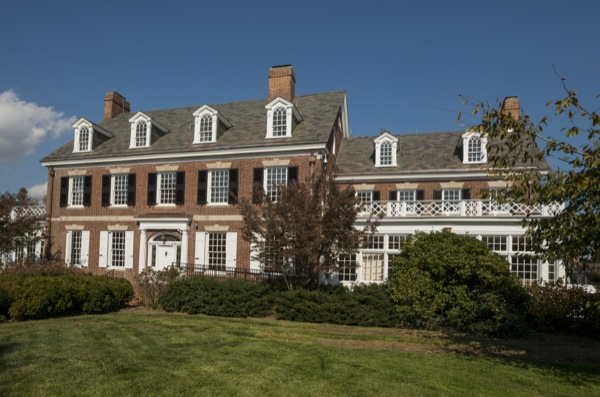 44 Kent Way
UD's global, graduate communities gain bright new space
4:01 p.m., Oct. 29, 2013--The University of Delaware's historic Georgian mansion at 44 Kent Way will officially open Monday, Nov. 4, as the new home for several offices focused on serving the University's graduate and international communities.
The building, once owned by Mr. and Mrs. E. Brinton Wright, was constructed in 1925 and donated to UD in 1966. It has been a temporary administrative office, a women's residence hall and a student infirmary. From 1971 to 2009, it was the Blue and Gold Club, the University's members-only restaurant.
From graduates, faculty
As it neared time for the processional to open the University of Delaware Commencement ceremonies, graduating students and faculty members shared their feelings about what the event means to them.
Doctoral hooding
It was a day of triumph, cheers and collective relief as more than 160 students from 21 nations participated in the University of Delaware's Doctoral Hooding Convocation held Friday morning on The Green.
Now fully renovated, the building will house the Office for International Students and Scholars (OISS), the outreach arm of the Institute for Global Studies (IGS), offices for visiting scholars and the director of the Center for Global and Area Studies (CGAS), the new Graduate Welcome Center, Graduate Student Government and a Graduate Student and Faculty Lounge. 
"It's wonderful to see this lovely building open again, to serve our graduate students and international students and scholars and provide a gathering place they can call their own," said Deputy Provost Nancy Brickhouse. "With this move, we are intentionally consolidating and positioning our activities serving international and graduate students at the center of campus." 
The UD community currently includes more than 3,800 international students and visiting scholars from over 100 countries. Of that number, about 1,800 new international students enter the University each year. One of their first stops on campus is the Office for International Students and Scholars, which provides advising and support services on issues ranging from visas to housing. The office is a centerpiece of 44 Kent Way.
"Opening this building underscores a key message in UD's Global Initiative — that our international students and scholars are welcomed and deeply appreciated at UD," noted Nancy Guerra, associate provost for international programs. "We are thrilled to have this great new hub for global activity."
More than 3,700 graduate students currently are enrolled at UD, a number that has increased steadily during the past five years. Over 32 percent of UD's graduate population also is international, with China, Saudi Arabia, India and South Korea representing the top countries of origin.
"We've always wanted a dedicated space where graduate students could meet informally, as well as celebrate events such as dissertation defenses with their faculty advisers, colleagues and family," said James Richards, vice provost for graduate and professional education. "So 44 Kent Way is a big plus for our graduate students."
The following offices and centers will be located at 44 Kent Way: 
The Office for International Students and Scholars (OISS) serves as a critical resource for UD's international community, providing information and support for the challenges of living, studying and working in a different culture, as well as celebrating the presence of international students and scholars on campus and their important contributions to the University's research and teaching missions.
The Institute for Global Studies (IGS) is the premier center for international education at UD, forging partnerships in academics, research and public service around the world and educating engaged, global citizens. The global outreach unit housed at 44 Kent Way will complement the IGS global research and study abroad components that will continue to be based in Elliott Hall. 
The Center for Global and Area Studies (CGAS), which is part of UD's College of Arts and Sciences, brings the six Area Studies programs (African, Asian, European, Islamic, Jewish, and Latin American and Iberian studies) into a single unit, thus combining the efforts of more than 100 faculty members, numerous graduate students and some 150 undergraduates majoring or minoring in one of the programs. 
The Graduate Welcome Center will serve as a central location for prospective, new and current graduate students and their families and become the home of UD's Graduate Student Connect program and Graduate Ambassadors, who assist with orientation.
Graduate Student Government (GSG) is a conduit between the University's graduate student community, faculty and administration. GSG supports campus-wide activities facilitating graduate student professionalism and collegiality and seeks to participate in the formation and execution of student and University policy through representation on University committees and by expressing views of the student body to the administration. GSG organizes and supports academic and social events such as the Graduate Student Forum, and coordinates volunteerism and community service opportunities. 
The Graduate Student and Faculty Lounge, located in the basement, will allow the graduate community to institute campus traditions such as celebrating academic defenses and exam completion. Graduate students and faculty will be admitted to the lounge through an electronic key card process.
Photo by Kathy F. Atkinson