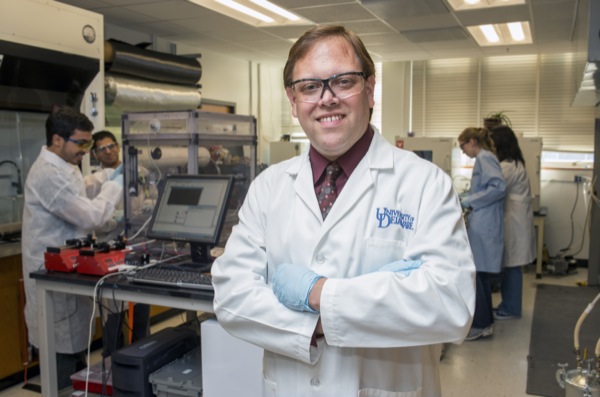 For the Record, Oct. 25, 2103
University community reports recent awards, presentations, publications
11:13 a.m., Oct. 25, 2013--For the Record provides information about recent professional activities of University of Delaware faculty, staff, students and alumni.
Recent awards, presentations and publications include the following:
From graduates, faculty
As it neared time for the processional to open the University of Delaware Commencement ceremonies, graduating students and faculty members shared their feelings about what the event means to them.
Doctoral hooding
It was a day of triumph, cheers and collective relief as more than 160 students from 21 nations participated in the University of Delaware's Doctoral Hooding Convocation held Friday morning on The Green.
Awards
Erik T. Thostenson, assistant professor of mechanical engineering, was presented the Winona (Minn.) State University Distinguished Young Alumnus Award during his alma mater's Homecoming celebration held last weekend. Each year, the university and its Alumni Society recognize individuals for their outstanding commitment to the university and to improving the world. The Distinguished Young Alumni Award recognizes graduates who are 45 years old or younger and have distinguished themselves in their work or in their community. A 1995 graduate of Winona State who went on to earn his master's degree and doctorate at UD before joining the faculty, Thostenson was recognized for having had broad impact in the field of composite materials. In addition to success in the field, where he has received a National Science Foundation Early Faculty Career Development Award and a U.S. Air Force Office of Scientific Research Young Investigator Research Program grant, Thostenson was recognized for his work on behalf of Winona State, where he has visited to recruit students, present development seminars and foster research collaboration between the university and UD.
Presentations
Suzanne L. Burton, professor of music education, presented two professional development sessions for the Maryland Music Educators Association fall in-service conference on Oct. 18. Pedagogy for secondary general music and early childhood music improvisation were the topics of the two sessions.
Pat Tanner Nelson, Cooperative Extension family and human development specialist, was a panelist for a national webinar, "Just in Time! Using Technology (Just in Time Parenting and text4baby) to Broaden Parent Engagement and Increase the Impact of Programming for Parents," Oct. 10. The webinar is archived at the Cooperative Extension parenting website under resources, podcasts and audio content (left column).
Mark Samuels Lasner, senior research fellow, Special Collections Department, University of Delaware Library, presented "Collecting the Victorians" to the Friends of Rockwood, Wilmington, Del., on Sept. 29.
Publications
An essay by Margaret D. Stetz, Mae and Robert Carter Professor of Women's Studies and professor of humanities, has been reprinted. "Rebecca West's Criticism: Alliance, Tradition and Modernism," which was originally published by Garland Press in 1994, appears in the newly reissued volume Rereading Modernism: New Directions in Feminist Criticism, edited by Lisa Rado, as part of the series Routledge Library Editions: Women, Feminism and Literature (Oxford and New York: Routledge, hardcover 2012; paperback 2013).
To submit information to be included in For the Record, write to ud-ocm@udel.edu.