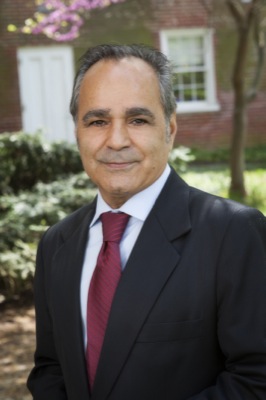 For the Record, Oct. 11, 2013
University community reports recent appointments, awards, presentations
11:26 a.m., Oct. 11, 2013--For the Record provides information about recent professional activities of University of Delaware faculty, staff, students and alumni.
Recent announcements, appointments, awards, media, presentations and publications include the following:
From graduates, faculty
As it neared time for the processional to open the University of Delaware Commencement ceremonies, graduating students and faculty members shared their feelings about what the event means to them.
Doctoral hooding
It was a day of triumph, cheers and collective relief as more than 160 students from 21 nations participated in the University of Delaware's Doctoral Hooding Convocation held Friday morning on The Green.
Appointments
Ali A. Poorani, associate professor of hotel, restaurant and institutional management and director of Hospitality Associates for Research and Training (HART), has been invited to serve on the advisory board of the International Healthcare Research Center (IHRC) of the Medical Tourism Association. IHRC research will focus on international patient experience and outcomes; health care research involving employers, insurers and governments; and understanding health and wellness travel affecting the quality of patients experience and their families at various touch points. Poorani is scheduled to present at the upcoming World Medical Tourism and Global Health Care Congress in Las Vegas. His research will expound on the "Economic Performance of Hotels Near Hospitals," particularly in economic downturns. The event generally attracts over 2,000 participants, including ministerial and governmental agencies, medical directors, global insurance and benefit providers, human resources executives, and health and wellness facilitators. Poorani's efforts in this area support the Department of Hotel, Restaurant and Institutional Management's strategic goals on becoming a leading hospitality program bridging healthcare and hospitality. 
Awards
Leo-Rey Gordon, a graduate of UD's doctoral program in economics and an assistant professor in the College of Business at Wilmington University, has been awarded a Fulbright teaching and research scholarship for the fall semester of 2013.Gordon will be at the University of the West Indies in Barbados and will teach an undergraduate course in corporate finance. He will also conduct economic research on offshore banking and informal business sectors in Barbados. Gordon and James L. Butkiewicz, professor and chair of UD's Department of Economics, are co-authors of a recent publication, "The Economic Growth Effect of Offshore Banking in Host Territories: Evidence from the Caribbean," World Development, April 2013, 44: 165-179.
Media
Campus radio station WVUD-FM 91.3 got a mention from Vice President Joseph R. Biden Jr., a UD alumnus, during an appearance on a CollegeRadioDay.org broadcast.
Harold (Hal) White, professor of chemistry and biochemistry and director of the Howard Hughes Medical Institute Undergraduate Science Education Program on campus, was featured in the fall issue of the HHMI Bulletin.
Presentations
Farley Grubb, professor of economics, presented his paper "Estimating the Liquidity Premium to Paper Money in Colonial America: New Jersey, 1709-1775" in the economics department seminar at Wake Forest University, Winston-Salem, N.C., Oct. 8. He also was a guest lecturer in the course "Monetary Theory and Policy" at Wake Forest University on Oct. 9.
Rudi Matthee, John and Dorothy Munroe Professor of History, presented "The Dutch East India Company and Asian Raw Silk: From Iran to Bengal via China and Japan," at the Metropolitan Museum in New York City, on Oct. 4. The presentation was part of a day-long symposium attended by 875 people and held in conjunction with the exhibition Interwoven Globe: The Worldwide Textile Trade, 1500-1800, which just opened at the museum. 
Suzanne Burton, professor of music education, and colleague Gena Greher of the University of Massachusetts, Lowell, presented a research-based best practice session titled, "Teens and iPads: What's the App for That?" at the fifth Biennial Society for Music Teacher Education Symposium held at the University of North Carolina, Greensboro, Sept. 26-28.
Also at the symposium, Burton and UD Undergraduate Research Scholars Jenna Knaster and Maria Knieste presented a research poster, "Staying in Tune with Music Education Policy: Policy Awareness Among Undergraduate Music Education Majors."
Publications
Margaret D. Stetz, Mae and Robert Carter Professor of Women's Studies and professor of humanities, has an essay titled "The Pleasure of The Importance of Being Earnest" in the Guide to the Season: Plays 2013-2014, published by the Shakespeare Theatre Company, Washington, D.C., as an e-book and available electronically from Barnes and Noble. Among the other six contributors to this e-book, which accompanies the company's new productions of classic plays, are Stephen Greenblatt of Harvard University and David Scott Kastan of Yale University.
Sheldon D. Pollack, professor of law and legal studies, published "Delaware: Tax Haven or Scapegoat?" in State Tax Notes (October 7, 2013), pages 53-56. 
To submit information to be included in For the Record, write to ud-ocm@udel.edu.