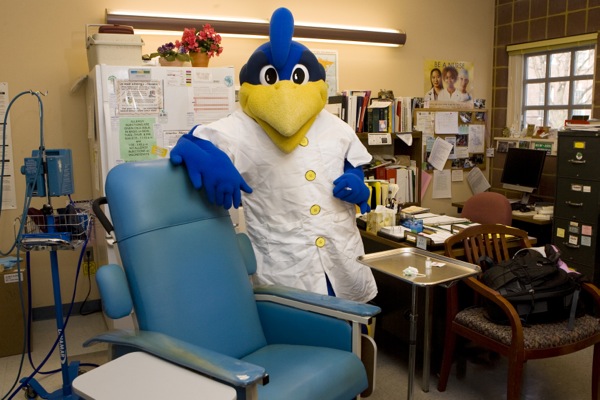 Flu season
Campus health care professionals advise annual vaccination
4 p.m., Oct. 14, 2013--Flu season is coming, and the Centers for Disease Control (CDC) recommends annual flu shots for people of all ages.
The Nurse Managed Health Center (NMHC) and Student Health Services (SHS) are working together to provide flu vaccinations on the University of Delaware campus.
June 6: UDid It! Picnic
All UD faculty and staff members are invited to attend the annual UDid It! employee appreciation picnic, set from 11 a.m.-1:30 p.m., Monday, June 6, on The Green.
2FA protects you
If you are using two-factor authentication (2FA), even if a hacker has your password, your information is probably safe.
"It's important to get vaccinated every year to prevent the flu," says NMHC Director Allen Prettyman. "Influenza, or flu, is a contagious disease that can affect the nose, throat, and lungs and can cause serious illness, which can lead to death."
Faculty and staff can call the NMHC office at 302-831-3195 to schedule an appointment.  For individuals who are insured, the NMHC will bill their health insurance for the vaccination; no payment is required at the time of service. 
Appointments are  available Monday through Thursday between 8 a.m. and 4 p.m. and on Friday from 8 a.m. to noon.
The NMHC is located in 119 McDowell Hall. Visit the website for more information.  
SHS is offering flu clinics on Tuesday, Oct. 15, and Wed., Oct. 16, from noon to 4:30 p.m.  Students who can't make it to either of these clinics can schedule an appointment by visiting the website. Forms can be completed in advance on line.  The cost of the vaccine is $16, which will be billed to the student's account.  SHS is located in Laurel Hall, at the far end of UD's South Campus.
"Please allow at least 30 minutes in your schedule to receive the vaccine and the 20 minutes that SHS requests you stay after the injection," says Dr. Timothy Dowling, physician and SHS director. "Also, make sure you have had something to eat that day before you come in to receive the vaccination."
Article by Diane Kukich