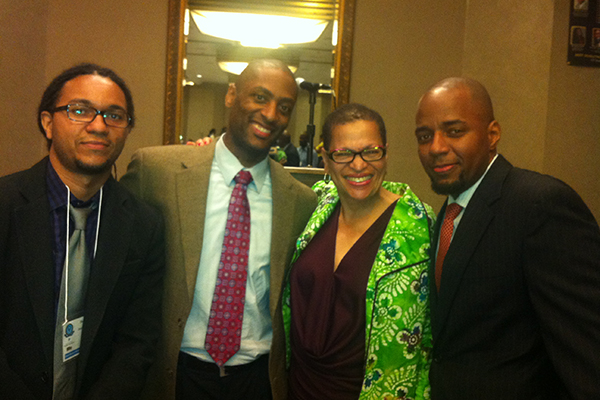 Black Doctoral Network Conference
UD has strong presence at inaugural Black Doctoral Network Conference
4:15 p.m., Oct. 14, 2013--Members of the Black Graduate Student Association at the University of Delaware attended the Black Doctoral Network Conference in Philadelphia on Oct. 3-5, and two UD students presented their research at this inaugural event. 
UD was one of the top sponsors of students attending the conference, with registration sponsorships provided by the University's Office of Equity and Inclusion and the Office of Graduate and Professional Education. UD also hosted an information table during the conference exhibition.
'Resilience Engineering'
The University of Delaware's Nii Attoh-Okine recently published a new book with Cambridge University Press, "Resilience Engineering: Models and Analysis."
Reviresco June run
UD ROTC cadets will run from New York City to Miami this month to raise awareness about veterans' affairs.
The conference, which had the theme "Scholarship, Service and Community," attracted more than 350 attendees from across the country, including current graduate students, faculty, administrators and professionals in the social sciences; science, technology, engineering and mathematics (STEM); and the humanities. The event provided a space for intellectual exchange and a place to create connections and develop collaborations.
UD doctoral students Edward Smith, in urban affairs and public policy, and Lemir Teron, in energy and environmental policy, presented their research at a panel session focusing on community, economic and environmental development. 
Smith's presentation, "The EB-5 Immigrant Investor Program and Urban Economic Development," focused on the implementation of the EB‐5 Immigrant Investor program and the creation of regional centers as a viable job creation strategy given the incentives for investors to target urban communities. 
Teron's presentation, "Prison Waste: The Ecological and Social Consequences of Throwaway Culture," explored the ecological impacts that prisons have on local communities and greater society with an examination of the geographic stresses that these institutions exude.
The conference's keynote speakers included Cornel West, the Class of 1943 University Professor at Princeton University (who spoke at UD in 2011); William Julius Wilson, the Lewis P. and Linda L. Geyser University Professor at Harvard University; and Julianne Malveaux, president of Bennett College for Women. 
A variety of workshops were held on topics ranging from effective strategies for managing coursework, comps, and oral exams, to qualitative and quantitative methods, choosing your dissertation committee, and securing funding. 
Article and photo by Mosi London