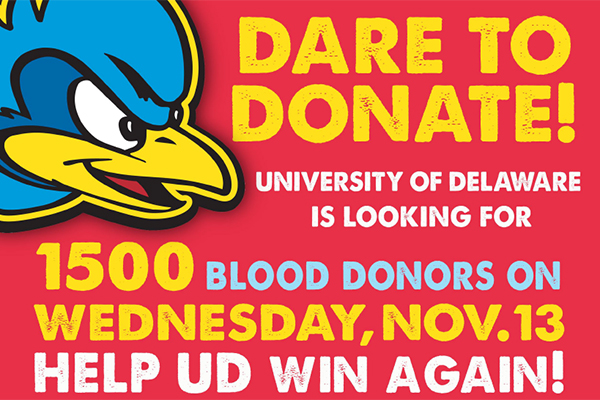 Nov. 13: CAA blood drive
UD seeks 1,500 donors for annual CAA Blood Challenge
9:31 a.m., Oct. 7, 2013--The University of Delaware hopes to turn out more than 1,500 blood donors as part of the annual Colonial Athletic Association Blood Challenge to be held on Wednesday, Nov. 13.
UD won the conference championship in 2012, with a school-record 1,232 donors, the highest total in the history of the event.
June 5: Blue Hen 5K
University of Delaware graduates planning to attend Alumni Weekend are encouraged to register for the annual Blue Hen 5K walk and run, which will be held Sunday morning, June 5.
June 6-9: Food and culture series
The 20th annual June Lecture Series at the Osher Lifelong Learning Institute at UD in Wilmington will be held June 6-9. Titled 'June a la Carte,' this year's program focuses on great political documents, feminism, world politics and a Newark cuisine sampler.
This year, organizers hope to top that total with a goal of 1,500.
The UD event, held in cooperation with the Blood Bank of Delmarva, will have four sites at which members of the campus community can give blood. They are:
Trabant University Center Multipurpose Rooms, 7 a.m. to 8 p.m.
Christiana Commons, 11 a.m. to 6 p.m.
Perkins Student Center, 11 a.m. to 6 p.m.
Bob Carpenter Center, 11 a.m. to 6 p.m.
The blood drive is open to the public.
To participate, donors must be at least 17 years old, weigh at least 110 pounds and be in general good health. Donors are asked to eat a good meal within three hours of giving blood and to drink plenty of water.
To schedule an appointment, visit the Blood Bank of Delmarva website or call 1-888-8-BLOOD-8.
"We are truly looking forward to partnering with UD again this year to have the largest one-day blood drive," said Michael Waite, director of marketing and community relations for Blood Bank of Delmarva. "The fact that we are able to get so many students and community members to join us for this competition truly shows their support for the school as well as their dedication to saving local lives. We are very grateful for all of our donors."
Waite added, "This drive comes at a crucial time for us because it is leading into the holiday season. Typically, blood donations are lower during the holidays and the blood we collect at the CAA Blood Challenge helps us sustain our inventory during that time."