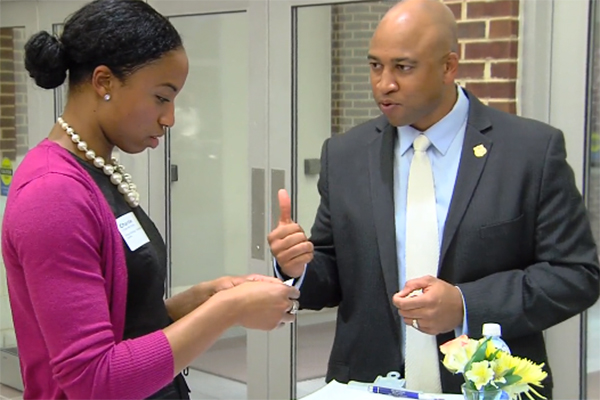 Networking event
UD Career Services for Athletes hosts Athlete Networking Night
3:16 p.m., Oct. 21, 2013--More than 150 University of Delaware student athletes attended an Athlete Career Networking Night held recently at the Bob Carpenter Center.
Sponsored by Career Services for Athletes and the Career Services Center, the event gave UD athletes -- who tend to have extremely demanding schedules and cannot always attend campus-wide career events due to practice, competition and travel -- an opportunity to network with employers across many diverse industries.
From graduates, faculty
As it neared time for the processional to open the University of Delaware Commencement ceremonies, graduating students and faculty members shared their feelings about what the event means to them.
Doctoral hooding
It was a day of triumph, cheers and collective relief as more than 160 students from 21 nations participated in the University of Delaware's Doctoral Hooding Convocation held Friday morning on The Green.
(For a video about the Athlete Career Networking Night, click here.)
"It's a learning process," said Christine Motta, who oversees Career Services for Athletes and organized the event. "It is just as important for our freshmen to observe and get exposure to an event like this as it is for our sophomores, juniors and seniors who may be actively pursuing internships and full-time jobs."
This was the first time Kierstan Smith, a junior on the women's lacrosse team, experienced a career event like this. "Attending the Networking Night really opened my eyes about what I should be doing right now for my future," said Smith. "I decided that I really need to meet with Christine Motta from Career Services for Athletes to help me figure some things out."
"Career development is a four year process," Motta said. "It is a vital component of our athletes' total college experience. We want them to take steps to explore their values, interests and opportunities in their career field of interest as early in their college careers as possible. An event like this is a great place to start."
For more information on how Career Services for Athletes is connecting employers and athletes, visit the Athlete Portal on the Career Services website.