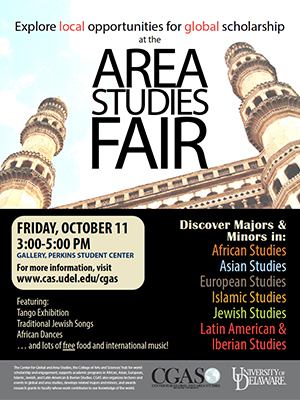 Oct. 11: Area Studies Fair
Event features global scholarship opportunities, cultural presentations
3:26 p.m., Oct. 7, 2013--The University of Delaware's Area Studies Fair will be held this Friday, Oct. 11, from 3–5 p.m., in the Perkins Student Center Gallery.
Hosted by the Center for Area and Global Studies (CGAS), the event, now in its second year, is designed to showcase the local opportunities that UD undergraduate students have to engage in global scholarship and to inform students about how easy it is to add a major or minor in area studies to their existing majors. 
Fulbright awards
Three University of Delaware students and an alumna have received word this spring that they will travel abroad as part of the newest class of Fulbright Student Program award winners.
Peace Corps plans
Two University of Delaware students, John McCarron and Bridgette Spritz, have been selected as Peace Corps volunteers and will serve in Ghana and Rwanda.
UD offers majors in Asian, European, and Latin American and Iberian Studies, and minors in African, Asian, Islamic, Jewish, and Latin American and Iberian Studies. 
In addition to information, the Area Studies Fair will provide free food and beverages and an exciting array of artistic presentations to highlight different cultural traditions, from a tango exhibition, to Chinese and African dances, traditional Jewish songs and international music.
For more information, visit the CGAS website. A PDF of the event poster is downloadable here.