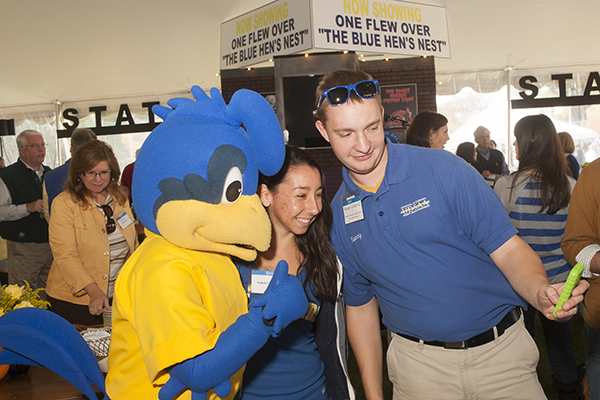 Alumni activities
UD marks Homecoming, prepares to dedicate new ISE Lab
9:20 a.m., Oct. 11, 2013--University of Delaware alumni returned to campus for a variety of Homecoming 2013 events, including a Colonial Athletic Association football game against Albany on Saturday afternoon at Delaware Stadium.
The event provided alumni, students, faculty, staff and friends an opportunity to celebrate.
'Resilience Engineering'
The University of Delaware's Nii Attoh-Okine recently published a new book with Cambridge University Press, "Resilience Engineering: Models and Analysis."
Reviresco June run
UD ROTC cadets will run from New York City to Miami this month to raise awareness about veterans' affairs.
For more on the weekend, tune in via social media to the Homecoming 2013 Storify site.
Post-Homecoming, alumni are invited to the grand opening and dedication of UD's new Interdisciplinary Science and Engineering Laboratory on Thursday, Oct. 17.
Visitors will have an opportunity to explore ISE Lab and visit with the students and faculty who are benefiting from this transformative addition to UD campus.
For details or to register, click here.
Other alumni activities are as follows:
Thursday, Oct. 17, 6 p.m.: HRIM 25th anniversary gala. The Department of Hotel, Restaurant and Institutional Management will hold its 25th anniversary gala.
Friday, Oct. 18, 6 p.m.: Blue Hens at the Hershey Gardens Pumpkin Glow. Join alumni and families to marvel at 150 uniquely carved, illuminated pumpkins along the garden path on this gentle stroll through one of the nation's leading gardens.
Saturday, Oct. 19, 10:30 a.m.: American Moderns Saturday Symposium: What Does Modern Mean? Alumni and the general public are invited to this event, hosted by UD Friends of Art History and the Delaware Art Museum, to tour the exhibition American Moderns, 1910 – 1960: From O'Keeffe to Rockwell and hear talks by experts.
Saturday, Oct. 19, 1:30 p.m.: Brew Hens Tour, Tasting and Lunch at Port City Brewing Company. Port City Brewing Company in Alexandria, Va.
Saturday, Oct. 19, 5:30 p.m.: Post-Regatta Happy Hour with the Boston Alumni Club. Join Boston Blue Hens for a post-race happy hour at Tavern in the Square in Cambridge after the Head of the Charles Regatta.
Thursday, Oct. 24, 5:30 p.m.: New Castle County Alumni Club Welcomes Class of 2013. Join alumni at 1984, Wilmington's hottest new taproom and arcade, for drinks, food and fun to welcome the newest UD graduates of the Class of 2013.
Thursday, Oct. 24, 6 p.m.: Operations Management Alumni-Senior Connections Dinner. All Operations Management seniors and alumni are invited to attend this fourth annual dinner to network and share job prospects.
Thursday, Oct. 24, 6 p.m.: Philadelphia Alumni Club. Join Blue Hens for happy hour with the Philadelphia Alumni Club at Kildare's in Manayunk.
Monday, Oct. 28, 5 p.m.: CEOE Alumni Gathering at Geological Society of America Meeting. Join faculty and alumni of the College of Earth, Ocean, and Environment for a special gathering in Denver, Colo.
Monday, Oct. 28, 7 p.m.: Fighting Hate and Anti-Semitism: Abraham Foxman, national director,  Anti-Defamation League. "Fighting Hate and Anti-Semitism: 100 Years of Experience and Still Learning," with Abraham Foxman, national director. Anti-Defamation League, is presented by the Kristol Center for Jewish Life/Hillel Foundation and Jewish Studies.
Thursday, Oct. 31, 6:30 p.m.: New York/New Jersey Halloween cruise. Blue Hens from northern New Jersey, New York City and Long Island will celebrate Halloween on the East and Hudson rivers aboard the Cabana yacht.
Tuesday, Nov. 5, 4 p.m.: "Education to Employment:" President's Leadership Series featuring Mona Mourshed. Mourshed, director of Global Education Practice, McKinsey and Company, presents "Education to Employment." Reception to follow.
Wednesday, Nov. 6, 5:30 p.m.: Art History Graduate Student Lecture Series: Tim Barringer. Enjoy a lecture on UD's Newark campus by Tim Barringer, the Paul Mellon Professor of the History of Art at Yale University and senior fellow at the Metropolitan Museum of Art.
Thursday, Nov. 7, 5:30 p.m.: Princeton Art Museum. Kelly Baum, a UD alumna and Haskell Curator of Modern and Contemporary Art at the Princeton Art Museum, will discuss the upcoming exhibition "New Jersey as Non-Site"
Thursday, Nov. 7, 6 p.m.: John R. Mather Visiting Scholars Lecture and reception. Alumni are invited to hear visiting scholars address the issue of communicating the science of climate change during a presentation at the Trabant University Center Theatre.
Saturday, Nov. 9, 8:30 a.m.: Battle of the Blues: Philabundance Challenge. Join fellow Blue Hens as they take on Villanova alumni in the annual Battle of the Blues food sorting contest at Philabundance. Following, there will be lunch and games at Chickie's and Pete's Play2.
The Office of Alumni Relations recognizes and thanks the UD Alumni Association for its support of several of these events.
Photo by Duane Perry