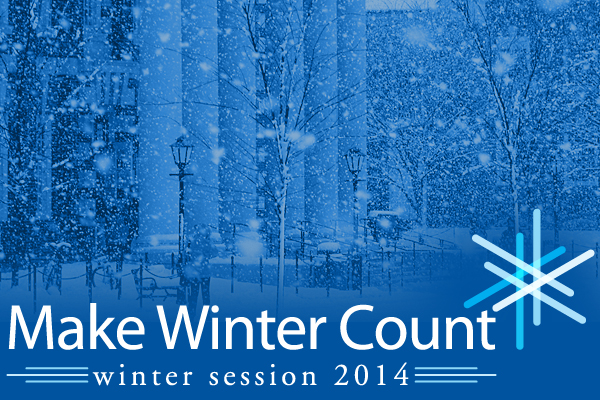 Cool courses
Winter Session courses help students catch up, explore something different
11:54 a.m., Oct. 30, 2013--Winter Session at the University of Delaware offers students the chance to catch up, get ahead or try something new. 
This year, UD is offering an array of courses and discovery learning opportunities designed to help Blue Hens make winter count. 
June 6: UDid It! Picnic
All UD faculty and staff members are invited to attend the annual UDid It! employee appreciation picnic, set from 11 a.m.-1:30 p.m., Monday, June 6, on The Green.
2FA protects you
If you are using two-factor authentication (2FA), even if a hacker has your password, your information is probably safe.
Across colleges and disciplines, there will be opportunities for students to capitalize on this unique term, which meets from Jan. 6 through Feb. 8. 
In addition, Winter Session 2014 offers on-campus housing at no additional charge, a special Winter Meal Plan and a cap on tuition. 
Below are just a few examples of Winter Session 2014 offerings. For a complete list of courses and additional information on Winter Session, visit the Winter Session web page. 
Breadth courses
The five-week Winter Session provides an opportunity for students to narrow their focus and funnel energy into a particularly challenging class or catch up on their degree requirements. Several UD colleges will be offering courses that satisfy breadth requirements this winter.  
For example, the Alfred Lerner College of Business and Economics offers its key foundational courses to help facilitate catching up or taking on a double major. These classes include Accounting I and II (ACCT 207, 208), Introduction to Marketing (BUAD 301), Management and Organizational Behavior (BUAD 309), as well as its core microeconomics, macroeconomics and finance courses. 
Discovery learning
Winter Session provides the perfect opportunity for students to engage in discovery learning. 
Students can enroll in Winter Session courses that guide them through an internship or service learning experience. Discovery learning courses, such as Experiential Internship (UNIV 364), coordinated by the Career Services Center, and Experiential Learning: Beyond Volunteerism (UNIV 362), offered by the Office of Service Learning, will be available this winter. 
Students in the College of Education and Human Development can take advantage of Winter Session to experience field placements through courses such as Intro to Exceptional Children (EDUC 230) and Classroom Management for Social and Emotional Learning (EDUC 390). Students in EDUC 230 will learn about current practices for working with children with special needs and see them implemented at local schools. In EDUC 390, students will be immersed in a school classroom in Lewes, Del., for two weeks and explore how to create a positive classroom learning environment in this real-world setting. 
Aspiring biomedical engineers can enroll in a unique clinical immersion experience (BMEG 367) that enables students to shadow health care professionals. 
Special offerings
Several new courses will also be available for students this Winter Session. 
The College of Agriculture and Natural Resources is offering a new course, Food Glorious Food -- Challenges for the 21st Century (ANFS 267), exploring the national and global food supply from scientific, technological, economic, social and ethical perspectives. The College of Engineering has scheduled a new seminar, Safety and Inspection of Bridges (CIEG 467). 
The College of Arts and Sciences presents a wide range of winter courses and discovery learning opportunities in the arts, social sciences, humanities and natural sciences. Additionally, CAS has initiated three new online introductory course offerings, including Intro to Criminal Justice (CRJU 110), Intro to Sociology (SOCI 201), and Intro to Theatre Design (THEA 202). 
For more Winter Session highlights from the College of Arts and Sciences, visit the college's special Winter Session page. There students will learn about opportunities to study the history of Hollywood in Film and American Society (HIST 221) or try their hands at video and game design in Introduction to Video Game Animation and Design (ART 267).  
Expanding skill sets
Several unique courses are designed to help students expand their skill sets are available during Winter Session. 
The College of Earth, Ocean, and Environment offers an Occupational Safety and Health Administration (OSHA) 40-Hour Safety Training (GEOL 422) and an eight-hour refresher course (GEOL 467).
Students in the College of Health Sciences can take a variety of courses offered throughout the college in addition to study abroad opportunities. They can also take advantage of unique interdisciplinary courses, such as the Language of Medicine (MEDT 200), a course exploring medical terminology, and a course in Ethical Aspects of Healthcare (HLTH 241).
The College of Engineering is offering a Technical and Scientific Writing seminar (EGGG 667) designed specifically for students in the college. 
Registration for Winter Session 2014 is now open. Students can check their registration appointment — the day and time at which they may individually begin to register — on their individual UDSIS web pages.