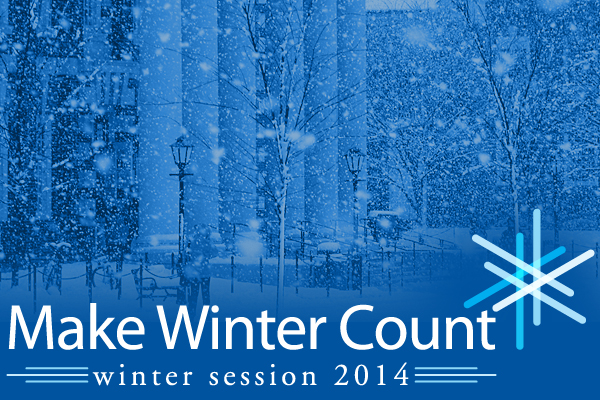 Make winter count
UD's Winter Session offers students a range of possibilities
8:52 a.m., Oct. 23, 2013--The University of Delaware encourages students to take advantage of all that Winter Session has to offer. The special term between fall and spring semesters gives students several possibilities, and this year there are options that make it even more convenient. 
Winter Session 2014 offers on campus housing at no additional cost as well as a special Winter Meal Plan and a cap on tuition. Registration for Winter Session 2014 opens on Monday, Oct. 28. 
June 6: UDid It! Picnic
All UD faculty and staff members are invited to attend the annual UDid It! employee appreciation picnic, set from 11 a.m.-1:30 p.m., Monday, June 6, on The Green.
2FA protects you
If you are using two-factor authentication (2FA), even if a hacker has your password, your information is probably safe.
The Winter Session tuition cap allows undergraduate students to take up to seven credits at the cost of 4.5 credits. Many students use Winter Session to focus their energies on one or two courses, to catch up on their degree progress or to take advantage of experiential learning opportunities. Additionally, students can use Winter Session to enable a change of major or to pursue multiple majors or minors during their enrollment at UD.
For resident undergraduate students living in a traditional residence hall this fall or who register to live there in the spring, there is no Winter Session housing fee. Students who are not enrolled in Winter Session classes may request to live in residence halls for other University-related reasons, such as on-campus employment or research. 
The only students who will be charged any winter housing fee are those who live in the residence halls during Winter Session only and those who live in Graduate Student and Family Housing (Conover Apartments or Graduate House).
Students enrolled in Winter Session classes who do not wish to live on campus during Winter Session must indicate so on the Winter Session housing registration form. Additional information and housing registration forms will be available on the Residence Life and Housing website. Failure to do so may result in being assigned and billed for a mandatory dining plan. 
All students living in traditional residence halls or suites during Winter Session will be enrolled in this year's new all-point Winter Meal Plan. The plan consists of 754 points that can be used at all dining retail locations across campus, including the Trabant University Center Food Court, the Scrounge and Dunkin Donuts in Perkins Student Center, Einstein Bros. Bagels in ISE Lab, the P.O.D. markets and more. 
Several of these venues will be expanding their offerings and hours during Winter Session. A complete listing of Winter Session hours and additional information on choosing a dining plan will be available on the UD Dining website. 
All points from the mandatory Winter Meal Plan will expire at the end of Winter Session. Students may purchase additional points for any current dining plan via the Dining website, at value transfer stations or at cashiers. Call 302-831-4033 or email mealplans@udel.edu with questions. 
To help students make the most of Winter Session, University Student Centers will be offering special programming, development opportunities and events. 
For additional information, see this special F.A.Q. 
Follow UD social media for relevant updates on Winter Session 2014.