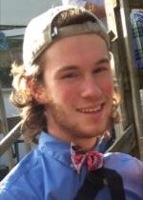 In memoriam
Sophomore Ethan Connolly remembered
11:41 p.m., Oct. 23, 2013--The University of Delaware community extends its condolences to the friends and family of Ethan P. Connolly, the UD sophomore from Medway, Mass., who died tragically on Oct. 18 after being accidentally struck by a motor vehicle. He was 19. 
At UD, Mr. Connolly was a political science major in the College of Arts and Sciences and a member of the Theta Chi fraternity. 
"The deepest sympathies of everyone at the University go out to Mr. Connolly's family and friends," said Dawn Thompson, interim vice president for student life. "We are all deeply saddened by this tragic loss of a member of our community."
Tammy Rossi, instructor in mathematical sciences, remembers Mr. Connolly from her College Algebra and Statistics course as reserved, dedicated and conscientious. "You could tell he put effort into the class and learning the material," she said. "He was such a nice guy. I am so sorry for his friends and family."
Born in Boston on March 3, 1994, Mr. Connolly was raised in North Reading, Mass., and in 1999 moved to Medway. In 2012, he graduated from Medway High School, where he lettered in both football and baseball. 
A history fan, he loved to play basketball with his friends, who remember his engaging personality and his "wonderfully goofy sense of humor." 
His family said he was "selfless, had great empathy and loved to make connections with people." On his Twitter account, Mr. Connolly wrote, ""Sometimes life ain't fair and when you feel that way you got to stay strong" and "Honestly I love anyone I've had a positive memory with." 
He is survived by his parents, Bryan and Susan (Shea) Connolly; his grandmother, Marjorie Shea of Revere, Mass.; and many aunts, uncles, cousins and friends. He was the grandson of the late Patrick and Claire Connolly. 
A funeral mass will be held at 11 a.m., Friday, Oct. 25, at St. Joseph Church, 151 Village St., Medway, Mass. Calling hours will be held from 4-8 p.m., Thursday, Oct. 24, in the Ginley Crowley Funeral Home, 3 Barber St., Medway. 
In lieu of flowers, donations may be made in his memory to the Ethan Connolly Scholarship Fund, in care of Medway High School, 88 Summer St., Medway, MA 02053. 
Online condolences may be sent to the Ginley Funeral Homes website. 
Support and assistance
UD students are encouraged to contact the Center for Counseling and Student Development at 302-831-2141 for any needed support and assistance during this time. In addition, the staff in the Office of the Dean of Students is available to meet with any student who wishes to talk. Call 302-831-8939 to schedule an appointment or stop by 101 Hullihen Hall.