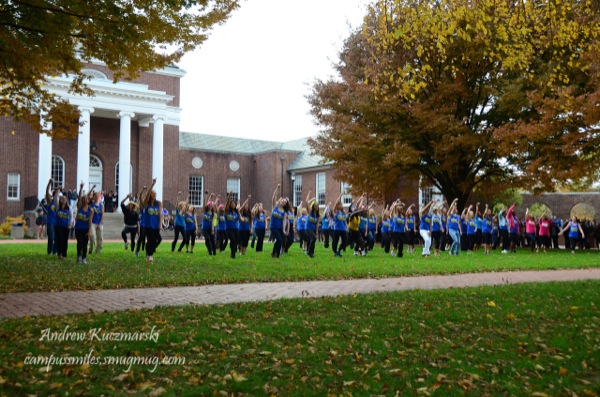 Cancer awareness
UDance performs '90s-themed flash mob in battle against pediatric cancer
3:23 p.m., Nov. 19, 2013--UDance, the University of Delaware's largest student-run philanthropy, captured the attention of hundreds of students as they performed their annual "flash-mob" outside of Memorial Hall on Tuesday, Nov. 5.
Students were informed through social media posts by UDance that there was a "surprise" that day, but the actual event was kept secret until "Backstreet's Back" began blasting on The Green, starting off the 90s-themed flash mob for 2013.
From graduates, faculty
As it neared time for the processional to open the University of Delaware Commencement ceremonies, graduating students and faculty members shared their feelings about what the event means to them.
Doctoral hooding
It was a day of triumph, cheers and collective relief as more than 160 students from 21 nations participated in the University of Delaware's Doctoral Hooding Convocation held Friday morning on The Green.
As students gathered to witness the flash mob, many were reminded that UDance is not just an annual 12-hour dance marathon but a year-long effort to raise funds and increase awareness of childhood cancer. 
The dancers, some executive board members and many enthusiastic volunteers strutted their moves in blue tank tops that asked on the front, "Why do UDance?" and stated on the back "I'll give you 46 reasons why." This number is significant in that it represents the 46 children that are diagnosed with pediatric cancer each school day. 
Joe Zarraga, a senior biology major and entertainment head for the UDance 2014 executive board, organized the event. He in the video, rocking white pants and leading the mob in a "flashback" that UD didn't see coming.
"We decided to do another flash mob based on the success of last year's 'Gangnam Style' flash mob," said Zarraga. "Both students and alumni seemed to enjoy it last year, so we wanted to do something fun and entertaining to remind them that UDance is a year round effort to unite the university and to also help a great cause."
UDance has raised over $1.4 million in the past seven years and is only growing in popularity and support on and off campus.
Stacy Lager, senior human services major and special events head for the UDance executive board, said, "A flash mob is an exciting, engaging, interactive, and 'in-your-face' way to get people to know about a purpose or cause … plus it is fun."
This year's flash mob was not only a way to spread the word about childhood cancer but to get the campus community to ask "why do UDance?"
Article by Michelle Morreale