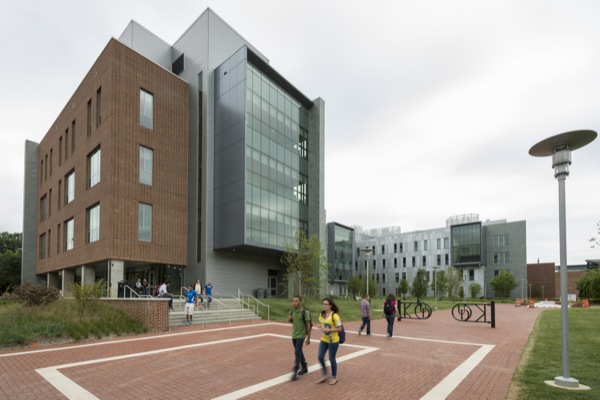 Nov. 11-Dec. 2: Science, society
'Science, Society, Sandwiches' series announces next slate of speakers
1:13 p.m., Nov. 8, 2013--The University of Delaware's Interdisciplinary Science and Engineering Laboratory (ISE Lab) will continue its speaker series titled "Science, Society and Sandwiches" with lunchtime talks through Dec. 2.
The series will be held in Room 110, the first-floor Problem Based Learning (PBL) Studio, from 12:30-2 p.m. on Mondays, beginning Nov. 11.
Chronic wounds
UD's Millicent Sullivan and Kristi Kiick have received a $1.4 million grant from the National Institutes of Health for research that could provide a new approach to the treatment of chronic wounds.
Prof. Heck's legacy
The American Chemical Society is highlighting the legacy of the late Nobel laureate Richard Heck, the Willis F. Harrington Professor Emeritus of Chemistry at the University of Delaware with a digital tribute on its publications website.
Sandwiches and beverages will be available for the first 30 who register. To register, send an email to isll-info@udel.edu and provide your name, department and email address. For more information on the series, contact Kimberly Doucette at 302-831-6400.
The series offers perspectives on contemporary research and issues and discussions of the concepts and issues from multiple points of view.
Each week, speakers from different departments, and often from two different colleges, present their perspectives on a common problem, issue or concept. Each speaker will be encouraged to give a presentation similar to a TED Talk — that is, each has 18 minutes for a formal presentation followed by ample time for a good conversation through a question and answer period.
The series is seen as a way to continue to promote interdisciplinary work on campus.
The November and December speakers are:
Nov. 11: Doctoral students Kristin de Ghetaldi, in art conservation, and Zachary Voras, in chemistry, will speak on "The Science and Art of Art Conservation." They are working in UD's Surface Analysis Facility to analyze and identify paint ingredients in tiny samples of historic artworks and were approached recently by the Smithsonian American Art Museum with questions about conserving artworks by African American painter Henry Ossawa Tanner, who composed his paintings in numerous layers of varying materials.
Returning to UD after a three-year fellowship at the National Gallery of Art, de Ghetaldi is a graduate of the Winterthur-UD Program in Art Conservation with a specialization in paintings and is currently working on her doctorate in the Preservation Studies Program. Voras, who deals with the challenges associated with handling, preparing and analyzing artwork samples, is a doctoral student in surface chemistry whose talk will focus on the complexity of the instruments used for analysis.
Nov. 18: Prasad Dhurjati, professor of chemical and biomolecular engineering, will discuss "Autism." His current research combines three decades of expertise in biotechnology and artificial intelligence, with key research accomplishments in the fields of biochemical engineering and "online fault diagnosis." Working in the areas of systems biology and modeling of engineering systems, he has recently developed a systems connectivity model of autism.
Dhurjati will also discuss some of the research on the effects of autism spectrum disorders on families that has been conducted by Brian Freedman of UD's Center for Disabilities Studies, who will be unable to attend the session.
Nov. 25: William Deering and Arun Kumar will speak on "Art and Nanomedicine."
Deering, assistant professor of art, teaches photographic design and directs Raven Press, UD's letterpress facility; the study abroad program to London; the Black Maria Film Festival; and the internship program for visual communications. He is currently working on a photographic project on "Terrorism" to be installed in the Eckersley Gallery at the University of the Arts in London in January. 
Kumar, assistant professor of medical laboratory sciences, is investigating nano-encapsulated natural compounds to treat cardiac disorders and a novel way to deliver nanoparticles coupled with drugs to the deep lung. Further, he is expanding this approach to develop cell-based therapeutic applications to diseases such as Alzheimer's, Parkinson's, brain trauma, cardiomyopathies, cancer, gene therapy and chronic lung disease.
Dec. 2: Alex Reid and Kathleen Langan Pusecker will speak about student retention in higher education. They share a deep personal interest in this question: How do we improve retention of students in their desired major and their chances for graduating from the University of Delaware in four to five years?
Pusecker is the director of educational assessment in UD's Center for Teaching and Assessment of Learning, supporting all assessment activities at the University, and has developed and implemented training protocols to create and assess measurable learning outcomes, as well as developing metrics to support programmatic assessment. She has made several presentations on and off campus to develop a culture of assessment of student learning.
Reid is a music educator, a doctoral candidate in educational technology and an IT support representative at UD. She has "empowered individuals who teach to efficiently use University resources in and beyond the traditional classroom environment through the adaptation of traditional instructional design strategies." She is deeply concerned about the "digital divide."