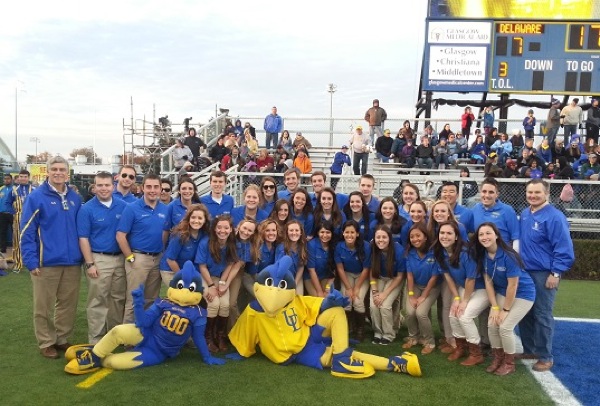 SAA applications
UD Student Alumni Ambassador candidates sought
8:35 a.m., Jan. 31, 2014--The University of Delaware's Office of Alumni Relations is looking for enthusiastic undergraduate students to be UD Student Alumni Ambassadors (UDSAAs).
Ambassadors plan activities to engage the UD student and alumni population, strengthen UD spirit and pride, and carry on the "Blue Hens Forever" tradition.
'Resilience Engineering'
The University of Delaware's Nii Attoh-Okine recently published a new book with Cambridge University Press, "Resilience Engineering: Models and Analysis."
Reviresco June run
UD ROTC cadets will run from New York City to Miami this month to raise awareness about veterans' affairs.
Those who are interested in becoming a UDSAA can click here for more information and to fill out the online application. Applications are due by 5 p.m. Monday, Feb. 24. 
Becoming a UDSAA is described as a great way to network and foster relationships within the University's extensive alumni population, gain invaluable skills, build a résumé, find a mentor, and show pride as a Blue Hen. 
The role of the UDSAAs is to foster connections between alumni and students by interacting with alumni and by encouraging students to consider their role as future alumni. The UDSAA's do this by: 
Supporting and assisting the Office of Alumni Relations as a professional student organization.
Acting as liaisons between the University/student population and the greater alumni population of over 157,000 UD graduates.
Creating and sustaining meaningful relationships with UD alumni, who in turn can become mentors.
Assisting Development and Alumni Relations by serving as student hosts at events of importance to the University community.
Planning and participating in school spirit activities at which alumni are present.
Aspiring to become active University of Delaware alumni whose lives will reflect positively on the University.
Those students who are passionate about the University and feel compelled to lead the student body to become Blue Hens Forever are encouraged to apply for a UDSAA position at this website.