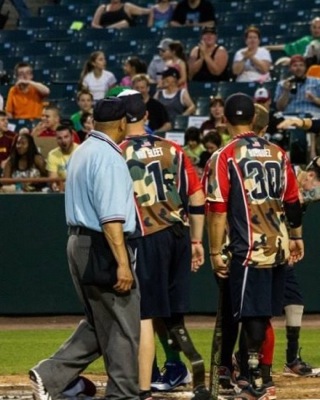 It's official
Dover-based company provides military bases with sports officials, uniforms
1:19 p.m., Nov. 14, 2013--On a normal workday, Kevin Hawkins wears blue hospital scrubs to his job as an operating room business analyst for Christiana Care Health System.
But in the evenings and on weekends, Hawkins is more likely to be found in a uniform of another sort — that of a sports official. He's an equal opportunity referee who can handle games of all sorts from football, baseball and soccer to volleyball, softball and basketball.
From graduates, faculty
As it neared time for the processional to open the University of Delaware Commencement ceremonies, graduating students and faculty members shared their feelings about what the event means to them.
Doctoral hooding
It was a day of triumph, cheers and collective relief as more than 160 students from 21 nations participated in the University of Delaware's Doctoral Hooding Convocation held Friday morning on The Green.
Hawkins has been a sports official for more than 30 years, but it wasn't until 2006 that he turned his love of sports and its rules into a business. Headquartered in Dover, Del., Sports Official Unlimited Inc. provides sporting and recreational goods and services, including not only game officials but also equipment and uniforms for officials working all sports. 
The federal government is now one of the company's primary clients. To learn how to target this sector, Hawkins turned to the Procurement Technical Assistance Center (PTAC) at the University of Delaware for help in 2008. Since then, he has received more than 60 hours of consulting assistance and landed over $500,000 in federal contracts.
"Meeting all of the government's requirements and filling out all of the paperwork can be a real challenge," Hawkins says. "PTAC contracting specialist Thelma Gabrielson really took us from A to Z — what to look for, how to read a contract, basically all of the steps involved. It's not a straightforward process."
Sports Official Unlimited is as much about education and mentoring as it is about officiating. "We educate families and spectators about the rules," he says. "We also run training camps for officials, enabling them to move from youth and high school sports to the college level and beyond. It's a very competitive business, but it's really rewarding to know that we've played a role in helping young officials move up through the ranks."
The company currently has contracts with three Air Force bases: Dover in Delaware, Andrews in Maryland, and Shaw in South Carolina. Hawkins still relies on PTAC for refresher help, including updating forms and searching for new solicitations that he can bid on.
"One thing that has been really helpful," he says, "is learning from PTAC how the government 'racks and stacks' bids — you can be eliminated very early in the process if something is missing from your application."
A former military man himself, Hawkins has a strong interest in community engagement. One of his favorite recent events was a charity softball game pitting NFL celebrities against the Wounded Warrior Amputee Softball Team, hosted by the Bowie (Md.) Baysox in June.
"This was a great opportunity to raise awareness for wounded warriors and have fun," he says. "Providing a service to the military community is rewarding and something that I really enjoy, which helps my company be successful. It's difficult to put a price on what the service men and women do for our country, so providing quality service is the least I can give in return."
"Sports Official Unlimited's contracts are evidence that the government really buys just about everything," says PTAC program director Juanita Beauford. "And with Kevin's strong interest in sports and his status as a veteran, this relationship is a perfect fit." 
About PTAC
Congress created the Procurement Technical Assistance Program (PTAP) in 1985 to help businesses seeking to compete successfully in federal, state, and local government contracting.
Funded through cooperative agreements between the Department of Defense and state and local entities, PTACs provide a range of expert services at little or no charge.
Established in 1999, Delaware PTAC is one of 99 programs in the United States, operating in over 300 locations. PTAC is a unit of the Office of Economic Innovation and Partnerships at UD. 
Article by Diane Kukich