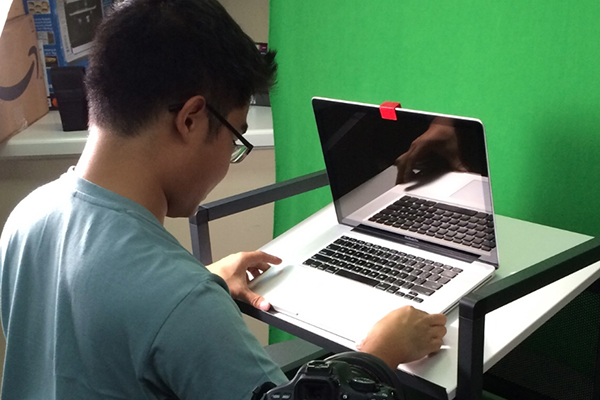 An analog answer
UD students invent hardware solution for highly exploited hacking problem
8 a.m., Nov. 26, 2013--As you read this webpage, it would be safe to assume that you are sitting in the frame of a webcam. Personal computers are everywhere now, and recent models come standard with a built-in camera centered above the display. Computer security experts suggest these cameras be covered while not in use due to software vulnerability. 
"A webcam is a window into your personal life that anyone can access," said Charles Meyer, University of Delaware senior and cofounder of Project Shotblock. "You may not use it that often, but a computer hacker can use it against you."
From graduates, faculty
As it neared time for the processional to open the University of Delaware Commencement ceremonies, graduating students and faculty members shared their feelings about what the event means to them.
Doctoral hooding
It was a day of triumph, cheers and collective relief as more than 160 students from 21 nations participated in the University of Delaware's Doctoral Hooding Convocation held Friday morning on The Green.
Many do not recognize the seriousness of webcam hacking in spite of its recent entrance into the mainstream. In August 2013, Miss Teen USA Cassidy Wolf became the victim of an extortion plot in which she was photographed by a hacker using her personal computer, and a program known as a Remote Administration Tool (RAT). Millions of such stolen images exist in online forums, and the majority of victims are unaware that they are being spied on. 
"I wasn't aware that somebody was watching me on my webcam," said Meyer. "The light on the camera didn't even go on, so I had no idea."
The Shotblock is a device that clips on to the lid of the computer, covering the webcam so that hackers cannot see you, even though they may have gained access. Similar to Occam's razor, this is a simple and trustworthy answer to the webcam hacking problem. 
Meyer, who also participates in the Horn Program in Entrepreneurship, insists that an analog solution is the only true answer for this digital problem. He fears that many Internet users approach the situation with the attitude that "it's not going to happen to me." Hackers are now fully undetectable, and all personal computer users are at the risk of privacy invasion. 
"Shotblock puts you in control of your privacy," said Meyer.
Meyer and cofounder David Lehman are crowdfunding the project using Kickstarter.com, a website where users are able to pledge money to projects they believe in. 
With access to a computer recycling facility, the Shotblock clip was tested against dozens of popular laptop models and fits most tablets. Project Shotblock is currently halfway to their goal of $2,000 with the help of 37 backers. 
Project Shotblock is being featured on Fox29 TV's The Crowd Funder Show. The program showcases entrepreneurs with ideas that are creative, socially relevant and commercially viable. Contributions made through The Crowd Funder Show are rewarded with sponsored gift cards for the same amount up to $100. 
Article by Christopher Hannigan