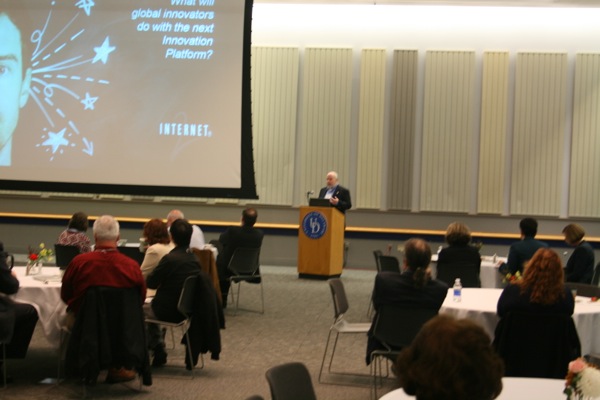 Network Delaware Day
Event showcases advanced network applications across variety of disciplines
10:30 a.m., Nov. 11, 2013--The University of Delaware, along with MAGPI (Metropolitan Area GigaPoP in Philadelphia for Internet2) and Internet2, hosted "Network Delaware: Advancing Research and Education Initiatives Across the First State" on Wednesday, Nov. 6. More than 60 people attended the event.
After a welcome by Nancy Brickhouse, deputy provost, three general presentations highlighted advanced network applications across a variety of disciplines and relevant to many communities including K-12, higher education, research, health care, libraries, and the non-profit cultural community.
From graduates, faculty
As it neared time for the processional to open the University of Delaware Commencement ceremonies, graduating students and faculty members shared their feelings about what the event means to them.
Doctoral hooding
It was a day of triumph, cheers and collective relief as more than 160 students from 21 nations participated in the University of Delaware's Doctoral Hooding Convocation held Friday morning on The Green.
Eric Boyd, deputy technical officer with Internet2, discussed the history and reach of Internet2 to institutions around the world. Boyd said that the key challenge at present is to create an environment in which the education and research community can develop the innovative ideas that will define advanced networking in the next decade.
Greg Palmer, executive director of MAGPI, spoke from a regional perspective and showed how UD is meeting the challenge of providing advanced networking to researchers in the area.
He mentioned a pilot program between UD and Indiana University to investigate data sent over Internet2 at current rates and then through network optimized servers. Ultimately, the optimized network will save an enormous amount of time for the research community. 
Jason Cash, director of UD IT Network and Systems Services Infrastructure, outlined the current state of UD's network. "Over the past three years, almost every component of the network has been replaced," Cash said. 
Cash pointed out that the new Interdisciplinary Science and Engineering Laboratory (ISE Lab) building has three wireless access points in every classroom to ensure that students can connect to the network without interruption. Over time, additional access points will be added to other classrooms on campus.
Following the morning talks, two breakout sessions with three tracks each — K-20/libraries, health care, and UD research/faculty — featured speakers from CERN; Bioinformatics Core Lab, Nemours Biomedical Research; the Library of Congress; Delaware Health Information Network; and UD. 
An overriding theme in these sessions was that the Internet can be leveraged by many organizations to reduce the cost of research; to explore the best routing, software delivery, and cyber attack detection over the Internet; to bring science, such as CERN's Atlas project, into classrooms; to expand the reach of Library of Congress programs; to provide health information; and to enhance state and local emergency management. 
Those with interest can see the presentations on the Network Delaware Day Presentations page.
Several vendors were on hand to answer questions about their products UD uses for its network infrastructure: Aruba Networks and CNI Sales Inc. (reseller of Aruba), Juniper Networks and Skyline Networks (reseller of Juniper), and Cisco Systems and Dimension Data (reseller of Cisco), and they kindly sponsored breakfast, lunch and snack breaks.