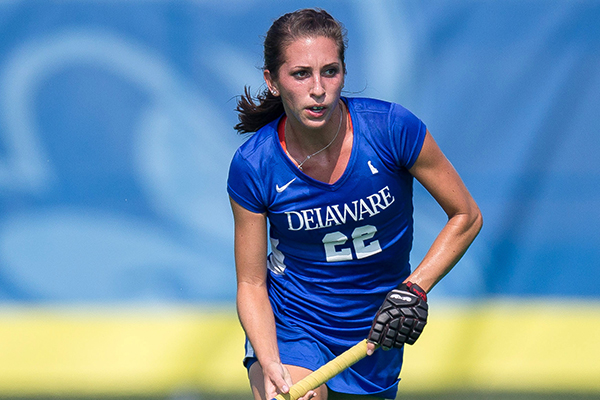 Hens win
Blue Hens top Liberty 1-0 in NCAA field hockey tournament
3:43 p.m., Nov. 13, 2013--The University of Delaware field hockey team topped Liberty University 1-0 in the opening round of the NCAA Division I championship tournament on Wednesday afternoon at Fred Rullo Stadium.
Finding the net for the Blue Hens was Kasey Prettyman, a senior forward who scored in the 64th minute on a penalty corner. Senior Heather Hartman and sophomore Michaela Patzner assisted Prettyman on the play, and senior goalie Sarah Scher had six saves.
Rower honored
University of Delaware junior Claire Brown has been named second team Collegiate Rowing Coaches Association All-Region.
Unsung Hero
The One Love Foundation has announced that University of Delaware men's lacrosse standout Elijah Conte has been selected as a winner of the 2016 YRL Unsung Hero Award.
With the victory, the Hens advance to face the host University of North Carolina Chapel Hill in a game to be played at 11:30 a.m., Saturday, Nov. 16. North Carolina is seeded No. 3 in the tournament.
The winner of the UD-UNC game will face the winner of a game between Wake Forest University and Old Dominion University on Sunday afternoon, Nov. 17.
For the tournament bracket, click here.
With the win, the Colonial Athletic Association champion Hens are now 17-4 on the season, setting a new single season win record. Liberty, champions of the NorPac Field Hockey Conference, finished the season 17-5.
For the complete game story, go to the BlueHens.com website.
Photo by Mark Campbell