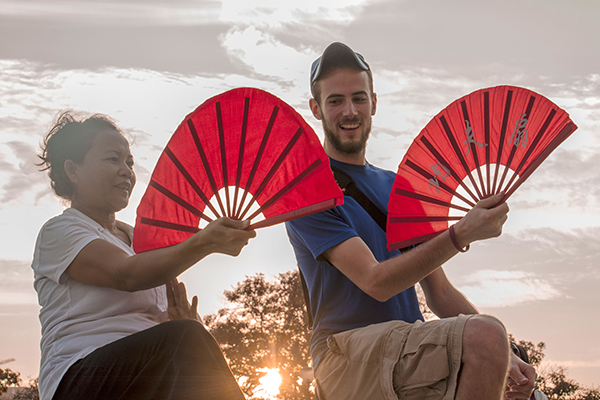 International education leader
UD continues to make mark in international education
9:09 a.m., Nov. 19, 2013--The University of Delaware launched America's first study abroad program 90 years ago and continues to make its mark as a leader in international education. 
According to the 2013 edition of Open Doors, published by the Institute of International Education, UD ranks fourth nationally among public, doctorate-granting institutions in the percentage of students who study abroad. 
Fulbright awards
Three University of Delaware students and an alumna have received word this spring that they will travel abroad as part of the newest class of Fulbright Student Program award winners.
Peace Corps plans
Two University of Delaware students, John McCarron and Bridgette Spritz, have been selected as Peace Corps volunteers and will serve in Ghana and Rwanda.
During the 2011-12 academic year, 1,366 UD undergraduate students, or 36.3 percent of the graduating population, studied abroad for academic credit, primarily in short-term programs lasting less than a semester. UD stands at 16th in the U.S. among all doctoral institutions in the number of students participating in short-term programs — 1,198 in the 2011-12 academic year.
UD's undergraduate student participation in study abroad outranked that of Carnegie Mellon, the University of Virginia, and several other institutions. The only public, doctoral institutions with higher participation rates were the College of William and Mary (45.7 percent), Georgia Institute of Technology (38.3 percent) and Miami University (37.9 percent).
"UD has a distinguished history in international education, from our pioneering program to France in 1923 that initiated study abroad in America, to about 70 programs worldwide that now involve over a thousand UD students each year," said Nancy Guerra, associate provost for international programs. "Experiencing other cultures firsthand deepens students' understanding of the world and their role as global citizens and problem solvers." 
UD's Winter Session, held during the month of January, is the most popular period when students venture abroad, according to Amy Johnson, deputy director for the Institute for Global Studies. Johnson is collaborating with several UD faculty to develop a new "micromester" program expected to launch in 2015. 
"The idea behind the micromester is to provide new opportunities for both faculty and students to experience study abroad," Johnson said. "By limiting a program to no more than three weeks, students can still gain important experience with other cultures but spend less than they would for a traditional month-long program."
Open Doors also reaffirmed that when international students decide to study abroad, they predominantly head to the United States -- to institutions like the University of Delaware. 
According to the report, international student enrollments in U.S. higher education institutions rose to the highest levels ever during the 2012-13 academic year, with 819,644 international students studying in the United States.
The state of Delaware ranked 38th in the U.S. in numbers of foreign students, at 4,337 students. Of that total, 3,696 students came to UD. Their leading countries of origin included China, Saudi Arabia, India, Turkey and South Korea. The students' expenditures in the state were estimated at $121.5 million.
UD's campus community includes students from nearly 100 countries. The recently restored mansion at 44 Kent Way provides services and an attractive gathering place for international students and scholars, as well as graduate students.
International Education Week (IEW), under way through Nov. 22 at UD, features a variety of programs and activities to celebrate the benefits of international education and exchange. For the complete schedule of activities, visit this website.
Article by Tracey Bryant