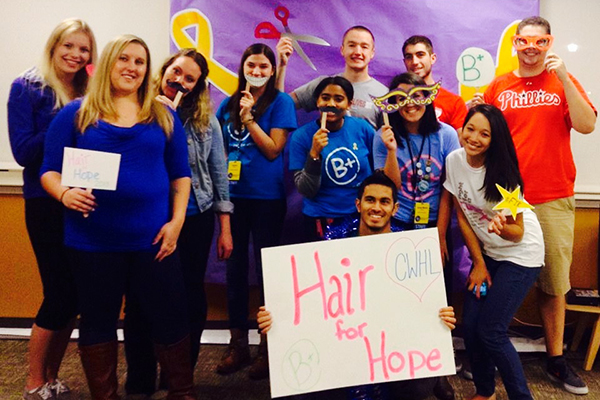 Hair for Hope
Event supporting fight against childhood cancer raises money, student awareness
1:12 p.m., Nov. 25, 2013--The second annual Hair for Hope event to support the fight against childhood cancer was held Sunday afternoon, Nov. 17, at the University of Delaware's Louis L. Redding Hall. 
The event, created by UD senior Amanda Cahill benefits the B+ Foundation and Children With Hair Loss.
'Resilience Engineering'
The University of Delaware's Nii Attoh-Okine recently published a new book with Cambridge University Press, "Resilience Engineering: Models and Analysis."
Reviresco June run
UD ROTC cadets will run from New York City to Miami this month to raise awareness about veterans' affairs.
Volunteer stylists from New Trend Hair Salon cut hair for about 140 people. Over 70 of those haircuts resulted in hair donations, which is enough to make about nine wigs. 
In addition to the hair donations, the event raised about $2,200 for the Andrew McDonough B+ (Be Positive) Foundation.
"Hair for Hope was definitely my favorite experience of first semester," said Rachel Calanni, a university studies major from Clarksville, Md. "Even when girls were coming up and second guessing if they wanted to cut or dye their hair, someone would be there saying 'Hey, it's for the kids.' That just shows how important this cause is to so many people. I feel so fortunate that I was able to be a part of such an amazing event, with such amazing people, that supported such a powerful cause." 
The B+ Foundation funds cutting edge childhood cancer research and is now one of the largest grantors of financial assistance to families of kids with cancer in the country. Co-sponsors WSTW and Kia of Wilmington assisted with promotion of the event and provided donations of prizes for participants. 
"Hair for Hope was an event I started last year in the Harrington complex with fellow resident assistant C.J. Burke," said Cahill, a history education major and student engagement adviser with UD Residence Life and Housing. 
As a student engagement adviser (SEA), Cahill is charged with serving as a floor-level resident assistant, and as a staff peer adviser who leads initiatives that heighten student engagement.
SEAs also work with other resident assistants (RAs) to identify student strengths and talents toward the goal of helping students become active members of the residence hall and UD community and creating and maintaining environments that promote and celebrate student contributions.