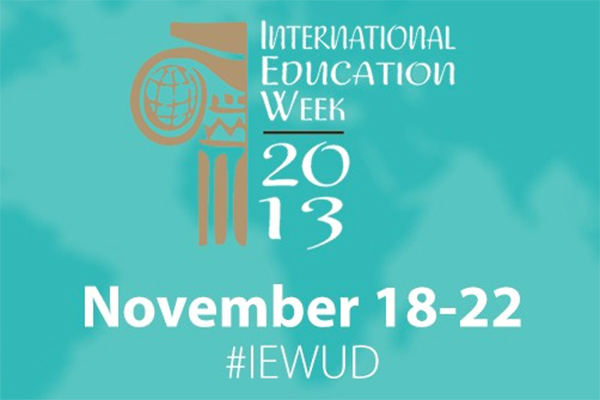 Nov. 20: Global panel
International Education Week sets 'Going Global' panel of experts
2:14 p.m., Nov. 18, 2013--International Education Week at the University of Delaware will present "Going Global: Panel of Experts" from 2:30-3:30 p.m., Wednesday, Nov. 20, in the Perkins Student Center Gallery 
The panel of experts include Paul Eckert, Asian correspondent for Reuters, and UD faculty members Debra Hess Norris and Douglas J. Buttrey. Hess Norris is the Henry Francis du Pont Chair in Fine Arts, chair of the Department of Art Conservation and a renowned art conservationist who has worked on projects around the world, and Buttrey is professor of chemical and biomolecular engineering and an active member of Engineers without Borders.
Fulbright awards
Three University of Delaware students and an alumna have received word this spring that they will travel abroad as part of the newest class of Fulbright Student Program award winners.
Peace Corps plans
Two University of Delaware students, John McCarron and Bridgette Spritz, have been selected as Peace Corps volunteers and will serve in Ghana and Rwanda.
The event will be moderated by UD's Ralph Begleiter, former CNN correspondent who is director of the Center for Political Communication and Edward and Elizabeth Goodman Rosenberg Professor of Communications. 
Attendees will have a chance to submit questions for the speakers to address after introductions.
The panel of experts will provide a unique opportunity for students to hear leaders in government, academia, media and industry share how their international experiences helped propel them into prominent careers. 
The panelists will discuss how they got their starts in their respective fields and how international experiences opened doors of opportunity and helped them cultivate skills and expertise critical to their professions. 
Before and after the panel, attendees can visit the Going Global: Exploring International Opportunities fair outside of the Perkins Gallery and speak to representatives from the Peace Corps, Study Abroad Office, Japan Exchange and Teaching Program, Engineers without Borders, and many other organizations.
International Education Week (IEW) is sponsored by the Institute for Global Studies (IGS), Office for International Student and Scholars (OISS), Residence Life and Housing and English Language Institute (ELI).
It is a celebration of culture through music, dance, musical theatre showcase, fashion, film, lectures, food, and more, and is taking place Nov. 18-22. It is an opportunity to celebrate the benefits of international education and exchanges.
Those who attend events are encouraged to wear the "Go global. Be global. IEW 2013" bracelet to events throughout the week to receive extra raffle ticket for a chance to win prizes such as gift cards and an iPad. The prizes will be announced during the Festival of Nations to be held from 5-9 p.m., Friday from in the Multipurpose Rooms of the Trabant University Center.
For more information, visit the IEW website and look for #IEWUD on Twitter.