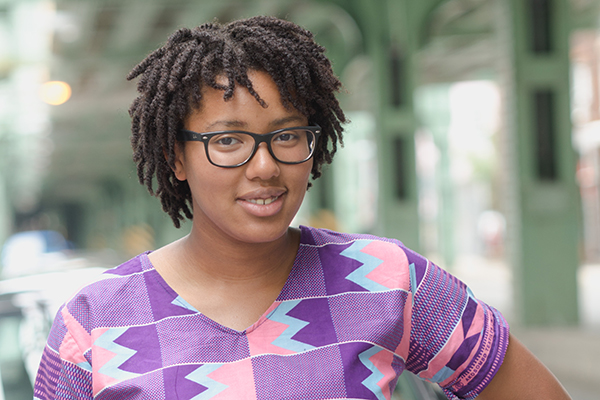 Gilman Scholar
UD senior awarded Gilman Scholarship to study abroad
10:26 a.m., Nov. 27, 2013--When University of Delaware senior Simone Austin heard she had been selected to receive a prestigious Benjamin A. Gilman International Scholarship to study abroad, she just couldn't contain her excitement. 
"I let out a squeal, which alerted my co-worker," says Austin, who works at the UD Field house. "I received the news a day before my birthday, so this is probably one of the top-10 best birthday presents!" 
Fulbright awards
Three University of Delaware students and an alumna have received word this spring that they will travel abroad as part of the newest class of Fulbright Student Program award winners.
Peace Corps plans
Two University of Delaware students, John McCarron and Bridgette Spritz, have been selected as Peace Corps volunteers and will serve in Ghana and Rwanda.
The award, which provides scholarship funds up to $5,000, is sponsored by the U.S. Department of State's Bureau of Educational and Cultural Affairs. 
Austin, who is from Claymont, Del., is majoring in political science and international relations and Black American studies, with a minor in African studies.
During UD's upcoming Winter Session in January 2014, she will study in Brazil on the anthropology, foreign languages and literatures, and Latin American and Iberian studies programs.
Austin is one of more than 700 Gilman Scholarship recipients this year. The students, all undergraduates, represent 341 colleges and universities across the U.S.
"I feel really honored to receive this award to fulfill a lifelong dream to study abroad," Austin says. "Not only will I be able to study abroad with this award, but upon my return I have the opportunity to share my experiences and act as an ambassador for the Benjamin A. Gilman Scholarship."
Austin says her follow-up project will entail maintaining a blog of her experiences and talking to multicultural registered student organizations (RSOs) on campus to encourage students to apply for the scholarship and to study abroad.
The Gilman Scholar program aims to diversify the students who study abroad and the countries and regions where they go. Students receiving a federal Pell Grant from two- and four-year institutions who will be studying abroad or participating in an international internship for academic credit are eligible to apply.
Scholarship recipients have the opportunity to gain a better understanding of other cultures, countries, languages, and economies, making them better prepared to assume leadership roles within government and the private sector.
"Study abroad is a special experience for every student who participates," says Gilman, who retired in 2002 after serving in the House of Representatives for 30 years and chairing the House Foreign Relations Committee. "Living and learning in a vastly different environment of another nation not only exposes our students to alternate views, but also adds an enriching social and cultural experience. It also provides our students with the opportunity to return home with a deeper understanding of their place in the world, encouraging them to be a contributor, rather than a spectator in the international community."
Article by Tracey Bryant
Photo by Artsecond Photography