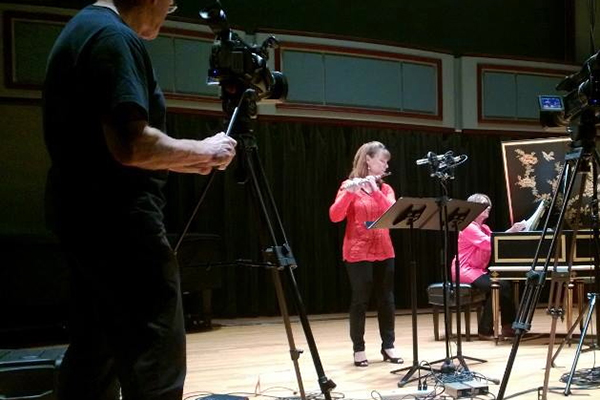 For the Record, Nov. 8, 2013
University community reports recent appointments, books, publications
1:18 p.m., Nov. 8, 2013--For the Record provides information about recent professional activities of University of Delaware faculty, staff, students and alumni.
Recent appointments, awards, books, conferences, honors, presentations and publications include the following:
From graduates, faculty
As it neared time for the processional to open the University of Delaware Commencement ceremonies, graduating students and faculty members shared their feelings about what the event means to them.
Doctoral hooding
It was a day of triumph, cheers and collective relief as more than 160 students from 21 nations participated in the University of Delaware's Doctoral Hooding Convocation held Friday morning on The Green.
Appointments
Robert F. Simons, professor of clinical psychology, has been appointed chair of the Department of Psychology, effective Sept. 1, College of Arts and Sciences Dean George Watson has announced. Simons, who has been serving as interim chair, is a clinical psychologist who specializes in psychophysiological approaches to human emotion and cognition.
Awards
Pascha Bueno-Hansen, assistant professor of women and gender studies, received the award of Northeast Circle Honoree from the International Studies Association-Northeast (ISA-NE). The ISA-NE conference will take place in Providence, R.I., Nov. 8-9. A panel of four distinguished scholars will discuss the contributions of her book manuscript in progress, Decolonizing Transitional Justice: A Feminist Analysis of Armed Conflict and Human Rights in Peru. 
Books
Lawrence G. Duggan, professor of history and research fellow of the Alexander von Humboldt Foundation, is the author of Armsbearing and the Clergy in the History and Canon Law of Western Christianity, published in October by Boydell and Brewer. The publisher's "Medieval Herald" online newsletter contains a recent transcript of an "interview" Duggan conducted with Pope Francis about the book.
Conferences
On Oct. 26, the Department of Chemistry and Biochemistry hosted the 34th East Coast Ion Chemistry Conference, which is held annually at the University to promote interaction among researchers in academia, industry and government laboratories. Presentations were given on research topics in mass spectrometry and gaseous ion chemistry by participants from UD, University of the Sciences in Philadelphia, Drexel University, Georgetown University, DuPont, DuPont Performance Coatings and MassTech. Individuals interested in attending future meetings should contact the department.
Honors
Jennifer Margaret Barker, professor of music theory/composition, was invited to Colorado College as a visiting distinguished composer. The residency, which took place from Oct. 26 to Nov. 2, included two concerts in which six of Barker's compositions were performed by members of the Colorado College faculty and regional professional musicians, including members of the Colorado Symphony. The works which were performed were: Geodha, BuMian, The Enchanted Glen, ...a love like no other..., Seann Oran and Na Tri Peathraichean. While in Colorado, Barker was also invited to open rehearsals of two of her compositions at Colorado State University by conductor/violinist and CSU faculty member Leslie Stewart. The first composition, Geodha, for string trio and timpani, will be performed at CSU on Nov. 18, and the second composition, Suilean a' Chlionne, for string orchestra, will be performed in spring 2014. Members of the UD and Newark communities can hear a performance of Suilean a' Chlionne at the University of Delaware Symphony Orchestra concert on Saturday, Nov. 23, at 8 p.m. in the Puglisi Recital Hall of the Roselle Center for the Arts. The UD Symphony Orchestra performance will be conducted by James Allen Andersen. To hear the music of Barker, visit the website or the YouTube site.
In recent months, Barker's compositions have also been performed at the Edinburgh International Arts Festival Fringe by Scottish trio, Vocali3e, and at the Delaware Contemporary Center for the Arts and Biggs Museum in Delaware by Wilmington-based baroque/contemporary music ensemble, Melomanie. Barker also recorded a recent commission for the ensemble Melomanie this past July. Finally, her composition, Geodha, for string trio and timpano, will be utilized as the underscoring for a performance of Shakespeare's The Tempest in Mumbai, India, later this fall.
Presentations
Lindsay Hoffman, associate professor of communication, was a panelist in an Oct. 25 discussion of "New Media — New Freedom?" moderated by the director of Voice of America and hosted by the Goethe Institut, the RIAS (Radio in the American Sector) Berlin Commission and German broadcaster Deutsche Welle. The panel was part of an RIAS meeting held in Washington, D.C., and covered extensively by German media.
Shelly McCoy, head, Student Multimedia Design Center, and interim head, Reference and Instructional Services Department, presented the webinar "Multimedia Spaces: Creating a Culture of Creativity" sponsored by LLAMA (Library Leadership and Management Association), a major division of the ALA (American Library Association) on Oct. 2.
Robert Hampel, professor in the School of Education, was a panelist in two sessions at the History of Education Society's annual conference in Nashville, Tenn. One session focused on the history of school principals in America, and the other session discussed undergraduate honors seminars on the topic of school reform.
Publications
Chandra Reedy, professor in the School of Public Policy and Administration and Center for Historic Architecture and Design, co-authored a paper with Elizabeth S. Goins, Christopher Egert, Andrew Phelps, and Joel Kinkaid of the Rochester Institute of Technology, "Modding the Humanities: Experiments in Historic Narrative," in the  Journal of Interactive Humanities, Vol. 1, No. 1 (2013), pages 13-21.
Melissa Melby, assistant professor of anthropology, published "Lifestyle Constraints, Not Inadequate Nutrition Education, Cause Gap Between Breakfast Ideals and Realities Among Japanese in Tokyo" in the journal Appetite (2014) 72:37-49, available online.
To submit information to be included in For the Record, write to ud-ocm@udel.edu.