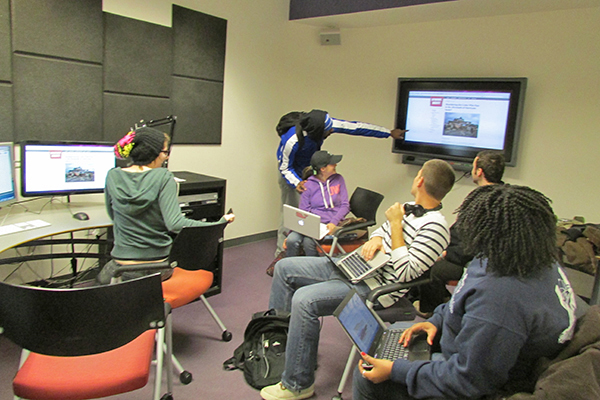 Dec. 4: Videos debut
Students in disaster, vulnerability, development class to showcase their work
10:22 a.m., Nov. 27, 2013--Soon, the students in the "Disaster, Vulnerability and Development" class taught by Tricia Wachtendorf, associate professor and associate director of the University of Delaware's Disaster Research Center, will be able to breathe easy.
All semester long, they have worked hard to pull together video projects that examine how social, geographic, developmental and cultural factors impact people's risk during disasters.
Chronic wounds
UD's Millicent Sullivan and Kristi Kiick have received a $1.4 million grant from the National Institutes of Health for research that could provide a new approach to the treatment of chronic wounds.
Prof. Heck's legacy
The American Chemical Society is highlighting the legacy of the late Nobel laureate Richard Heck, the Willis F. Harrington Professor Emeritus of Chemistry at the University of Delaware with a digital tribute on its publications website.
For example, when Haiti was hit by an earthquake in 2010, people living in higher crime areas were more impacted and experienced more challenges in receiving aid than others.
The student videos will publicly debut from 5-7 p.m., Wednesday, Dec 4, at 116 Gore Hall. 
One group will feature a video focused on disability, health and disasters. Another group will examine class, income disparity and disasters. The third group created a film that looks at disaster and gender issues.
As the deadline neared for the students to turn in their projects, completed by three groups of six to seven students, stress levels ran high. Students spoke about their experience after a recent in-class lecture.
"It takes a lot of collaboration and organization, especially with all of the time constraints over the semester," said Lauren Coffelt, a senior majoring in psychology.
But this is how it goes, Wachtendorf said. Toward the end of the semester, her students are usually trying to get their interviews wrapped up and their videos edited and polished. She requires them to have 30 sources, including interviews with at least seven different people. Once it's all together, the students can really sit back and enjoy their work.
"I've taught this class a few times before, and I'm always so impressed with what the students come up it at the end," Wachtendorf said. "I think they are all a little intimidated and skeptical at the start, but over the semester I think they come to see how the disaster vulnerability and resiliency issues we are talking about in class really connect to the lived experiences of people in the community."
The 400-level course is a Discovery Learning Experience class, and students come from across majors to work together on their projects. Some are surprised to learn that it incorporates so many different elements, from looking at sociological ideas to creating video to honing research and interviewing skills.
The videos must be 20-25 minutes long. Over the course of the semester, in addition to attending traditional lectures in the new Interdisciplinary Science and Engineering Laboratory (ISE Lab), students arrange their video interviews with faculty members, citizens and representatives of social organizations. 
They obtain their own images, utilizing open government libraries, relying on their interviewees, filming themselves or searching through the Disaster Research Center. 
And they write their own scripts and shoot and edit the videos using UD's Student Multimedia Design Center. 
To keep them motivated, Wachtendorf tries to convey all the skills they learn over the course of the semester: individual responsibility, working in teams, role/task distribution, research, development of an interview guide, scheduling and conducting interviews, camera work, editing and software use, presentation skills, time management and public presentation. 
"The best and worst part has been learning how to make a video from the ground up," said senior Eddy Geyer, majoring in environmental studies.
From the beginning, the students used their course textbooks as a guide for outlining their projects. Weekly class discussions and lessons have helped provide the students context and background.
During a recent lesson, students focusing on gender were given some food for thought when the class discussed how three women, all victims of domestic abuse in a variety of situations, would be impacted by a disaster.
At the start of the semester, the groups divided responsibilities and worked to schedule their interviews. The rest of the semester was spent pulling everything together.
Bari Berlin, a senior in sociology, said her group started by asking around among the people they already knew. Then they looked over the UD website to find faculty members based on their areas of expertise. Interviews and video production were then delegated among group members.
"Luckily, two people are good at editing," she said.
This collaboration is something Wachtendorf loves to see. The class "does a great job in showcasing students from a range of majors and colleges taking class together" she said, while also using research as a basis for teaching, engaging the students in the community and more.
For Kathleen O'Brien, a senior environmental studies student, the experience has changed the way she has looked at disasters, such as the recent typhoon in the Philippines. 
"Media portrayal is a factor," she said. "We had a class discussion about how it can affect aid and where it goes."
If that's the case, these UD students are getting some valuable lessons in thinking about the world around them.
For a flyer on the screening, click here.
Article by Kelly April Tyrrell
Photo courtesy of Tricia Wachtendorf