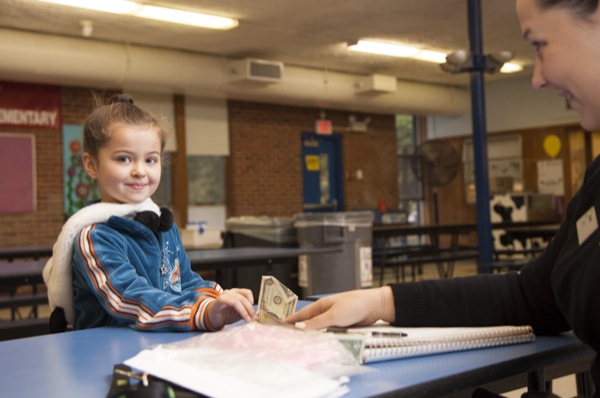 Bank At School
Children learn about finances through school banking program
8:21 a.m., Nov. 21, 2013--Teaching children about financial management at a young age is important. That's why the Bank At School program, produced by the University of Delaware's Center for Economic Education and Entrepreneurship (CEEE) in partnership with the Delaware Financial Literacy Institute (DFLI), has created alliances with several local banks and schools throughout the state to encourage students to open up and deposit to savings accounts right in their own schools.
This hands-on, experiential learning program was established in 1992 to encourage the life-long ethic of saving and help students recognize the benefits of saving early and often. To that end, the program provides a working model that enforces classroom teaching so students can eventually make more informed decisions on how best to use their money.
From graduates, faculty
As it neared time for the processional to open the University of Delaware Commencement ceremonies, graduating students and faculty members shared their feelings about what the event means to them.
Doctoral hooding
It was a day of triumph, cheers and collective relief as more than 160 students from 21 nations participated in the University of Delaware's Doctoral Hooding Convocation held Friday morning on The Green.
Every week a teller from one of eight different participating banks and four credit unions visits students in their hallways, cafeterias or classrooms, permitting them to make deposits on-site to a free account that they establish on their own.
Banking and education come together to help make savings a habit for these kids, many of whom might otherwise grow up at risk of being "un-banked" with a tendency to not build financial assets.
By assisting students in completing deposit tickets, bankers hope to positively interact with these young patrons and promote the message that banks are safe, that savings can grow through interest and that banks can help them better manage, rather than just "take," their money. 
Judy Austin, coordinator for the program, is charged with the responsibility of pairing interested schools with participating banks and credit unions.
"The goal is to have at least 15 percent of students sign up for savings accounts," Austin said. "Some schools involve up to 50 percent of their student base. And we are happy to customize the program according to the school's needs, sometimes offering it as a whole-school program and other times offering it selectively to specific grades."
When Austin took over the initiative in 2010 following receipt of grant funding from United Way, approximately 30 schools were participating. Now, more than 80 schools and 12 banks and credit unions conduct weekly operations, hosting activity in both elementary and middle schools in all three Delaware counties and expanding into high schools in New Castle County.
The CEEE distributes incentives to participating schools, including coin savers, magnets, pencils and arm bracelets — all designed to help students and their parents remember that the bank is open for business and inviting their patronage. While the trinkets serve as fun and welcome reminders, it is the pride that comes with making deposits of their own that is the students' true reward.
One of the schools taking part in Bank At School is Heritage Elementary School in Wilmington, Del. The school partners with TD Bank and has approximately 20 students participating so far this school year. An assembly held during the first week of school helped kick off the event, informing both children and their parents about the opportunity.
Samantha Kelleher, a teller at the bank, said this is very handy for many parents. 
"It's just easier, it's more convenient for them," Kelleher said. "It's hard sometimes to get out and go to the bank, so it makes it easy for the kids to deposit money."
Kelleher is currently in position as TD Bank's representative. She comes by Wednesday morning and waits at a table in the cafeteria where many students eat breakfast and spend time with friends before classes begin. In that time, students can open accounts and make deposits. 
"The kids absolutely love it," she said. "They have been saving a lot of money, which is wonderful."
Bank officials hope to be able to expand the program soon into classrooms to teach students more about managing money. The program has been staunchly supported by both Gov. Jack Markell and State Banking Commissioner Robert Glen.
"It's a great program to teach students the life lesson that there is something to do with money other than spend it," Kelleher said.
Article by Matthew Bittle
Photos by Ambre Alexander