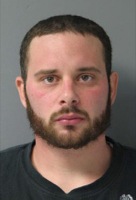 Shoplifting arrest
UD Police charge Wilmington man in shoplifting incident
10:08 a.m., Nov. 26, 2013--University of Delaware Police have arrested Matthew K. Radecke of Wilmington in connection with a shoplifting incident on Nov. 18 at UD's Barnes and Noble Bookstore, 83 East Main St., Newark.
On Nov. 18, a man removed several wireless speakers and ear buds from the Barnes and Noble Bookstore and then fled the store. On Nov. 22, some of the shoplifted property was recovered and confirmed to have been pawned by Radecke. 
Officers from UD's Criminal Investigations Unit and Community Resource Unit apprehended Radecke at a motel in New Castle. Upon completion of a search warrant of the motel room, approximately 1 gram of heroin was recovered, along with associated drug paraphernalia. 
Radecke was charged with shoplifting over $1,500, selling stolen property over $1,500, theft by false pretense under $1,500, second degree criminal trespass, possession of a controlled substance in a Tier 1 quantity and possession of drug paraphernalia. He was committed to the Howard Young Correctional Facility in default of $1,500 secured bond for the drug charges and $4,000 unsecured bond for the additional charges.
UD Police Chief Patrick Ogden said, "The University Police thanks the community for the assistance received and tips submitted in identifying this individual."