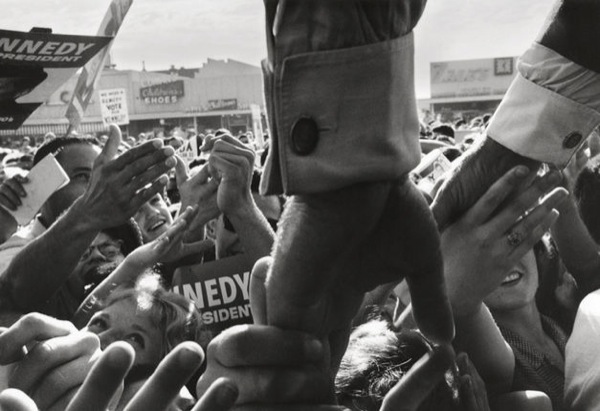 Alumni activities
International Center of Photography event features JFK, Hine exhibits
9:26 a.m., Nov. 22, 2013--University of Delaware alumni, students and friends are invited to view exhibitions on President John F. Kennedy and photographer Lewis Hine during a special "Evening of Art and Blue Hens" to be held Wednesday, Dec. 4, at the International Center of Photography (ICP) in New York City.
The center is hosting several exhibitions, including "JFK November 22, 1963: A Bystander's View of History," which examines the imaginative reception of iconic photographs of the assassination, the search for the killer, the swearing in of the new president and the funeral. Stills from Abraham Zapruder's famous footage of the assassination are included.
'Resilience Engineering'
The University of Delaware's Nii Attoh-Okine recently published a new book with Cambridge University Press, "Resilience Engineering: Models and Analysis."
Reviresco June run
UD ROTC cadets will run from New York City to Miami this month to raise awareness about veterans' affairs.
As part of the event, Brian Wallis, ICP chief curator, will give an overview of the exhibitions, which also include a retrospective featuring the work of Lewis Hine, one of America's most important early 20th century photographers.
Supporting the retrospective is a smaller exhibition, "The Future of America: Lewis Hine's New Deal Photographs," which focuses on his work as chief photographer for the National Research Project.
Also on view is "Zoe Strauss: 10 Years" featuring the work of the Philadelphia photographer and political activist.
On hand for the special event, a private evening reception, will be UD President Patrick Harker, the UD Friends of Art History and the New York City Alumni Club.
For details or to register, see the UDconnection web page.
Other alumni activities are as follows:
Thursday, Dec. 5, 6:30 p.m.: D.C. holiday party. The Washington, D.C., Alumni Club will hold a holiday party at One Lounge. The club will be accepting donations for the Capital Area Food Bank.
Saturday, Dec. 7, noon: Bryn Athyn Cathedral, Glencairn Museum. Alumni are invited to tour Bryn Athyn Cathedral and Glencairn Museum in Pennsylvania with the UD Friends of Art History and the Osher Lifelong Learning Institute.
Sunday, Dec. 8, noon: Boston Winter Classic. Boston area Blue Hens will enjoy a post-race party following the Winter Classic 5K.
Wednesday, Dec. 11, 6:30 p.m.: New York open board meeting. The New York City Alumni Club will hold its annual open board meeting, with opportunities to meet board members and fellow alumni.
The Office of Alumni Relations recognizes and thanks the UD Alumni Association for its support of several of these events.
Photo courtesy of the International Center of Photography