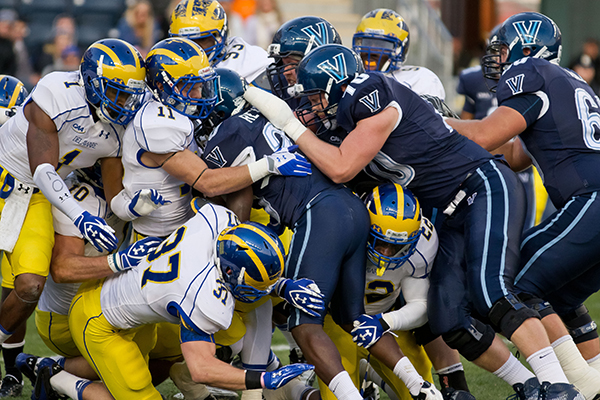 Alumni activities
Alumni invited to join Philabundance Battle of the Blues
8:54 a.m., Nov. 1, 2013--University of Delaware graduates, families and friends are invited to join the Philadelphia Alumni Club in the annual Philabundance Battle of the Blue food sorting challenge, as the Hens are matched against alumni from longtime rival Villanova University.
The contest will be held from 8:30 a.m. to 2:30 p.m., Saturday, Nov. 9. Participants must be at least 14 years old and all volunteers must wear closed-toe shoes to work in the warehouse.
'Resilience Engineering'
The University of Delaware's Nii Attoh-Okine recently published a new book with Cambridge University Press, "Resilience Engineering: Models and Analysis."
Reviresco June run
UD ROTC cadets will run from New York City to Miami this month to raise awareness about veterans' affairs.
Following the contest, the UD Alumni Association will sponsor lunch and games at Chickie's and Pete's Play2.
For details, see the UDconnection page.
The gridiron Battle of the Blues will be held Saturday, Nov. 23, as the Blue Hens take on the Wildcats at 3:30 p.m. at PPL Park in Chester, Pa.
Other alumni activities are as follows:
Tuesday, Nov. 5, 4 p.m.: "Education to Employment:" President's Leadership Series featuring Mona Mourshed. Mourshed, director of Global Education Practice, McKinsey and Company, presents "Education to Employment." Reception to follow.
Wednesday, Nov. 6, 5:30 p.m.: Art History Graduate Student Lecture Series: Tim Barringer. Enjoy a lecture on UD's Newark campus by Tim Barringer, the Paul Mellon Professor of the History of Art at Yale University and senior fellow at the Metropolitan Museum of Art.
Thursday, Nov. 7, 5:30 p.m.: Princeton Art Museum. Kelly Baum, a UD alumna and Haskell Curator of Modern and Contemporary Art at the Princeton Art Museum, will discuss the upcoming exhibition "New Jersey as Non-Site"
Thursday, Nov. 7, 6 p.m.: John R. Mather Visiting Scholars Lecture and reception. Alumni are invited to hear visiting scholars address the issue of communicating the science of climate change during a presentation at the Trabant University Center Theatre.
Thursday, Nov. 7, 6 p.m. Pittsburgh interest meeting. An interest meeting and happy hour with Pittsburgh Blue Hens will be held at Mad Mex in Shadyside.
Tuesday, Nov. 12, 6:30 p.m.: Lancaster interest meeting. Blue Hens in Lancaster, Pa., will gather for a happy hour and interest meeting at Iron Hill Brewery and Restaurant in Lancaster. Those who arrive before 6:45 will receive a free cocktail.
Saturday, Nov. 23, 5 p.m.: Medieval Times. The Northern New Jersey and New York City alumni clubs invited Hens to Medieval Times in Lyndhurst, N.J., for a family friendly event.
Wednesday, Dec. 4, 6:30 p.m.: Evening of Art and Blue Hens. An Evening of Art and Blue Hens will be held at the International Center of Photography in Newark City. On hand will be UD President Patrick Harker, UD Friends of Art History and the New York City Alumni Club.
Saturday, Dec. 7, noon: Bryn Athyn Cathedral, Glencairn Museum. Alumni are invited to tour Bryn Athyn Cathedral and Glencairn Museum in Pennsylvania with the UD Friends of Art History and the Osher Lifelong Learning Institute.
Sunday, Dec. 8, noon: Boston Winter Classic. Boston area Blue Hens will enjoy a post-race party following the Winter Classic 5K.
March 29, 2014: Flavor of India. UD friends, faculty, staff and alumni are invited to a private trip to India under the direction of Mahasveta Barua, an adjunct professor and bilingual touring director originally from India who has led multiple study abroad programs and service projects to India.
The Office of Alumni Relations recognizes and thanks the UD Alumni Association for its support of several of these events.
Photo by Mark Campbell