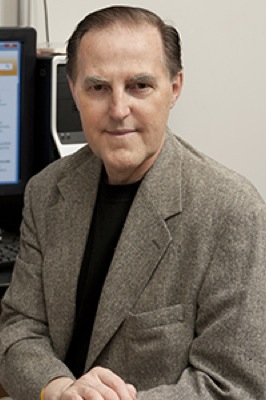 In Memoriam
Former physical therapy professor John Scholz dies
1:02 p.m., Nov. 6, 2013--John Peter Scholz, professor in the Department of Physical Therapy at the University of Delaware, died on Saturday, Oct. 19, 2013, after battling cancer for more than 10 years. He had been a member of the UD faculty since 1988.
Scholz's life was celebrated at a memorial service on Thursday, Oct. 24, at St. Thomas More Oratory on the University campus.
"It is our job from this day forward to keep John's memory alive in our minds and the minds of our future students, friends, and colleagues," said department chair Stuart Binder-Macleod at a reception following the service. "John and I worked together for 25 years. John was my friend, my colleague, and my professional moral compass. I, like all in our department, will miss him dearly."
Binder-Macleod went on to share notes he had received from former students and colleagues who could not attend the service.
One referred to him as "an integral thread in the department's history," another mentioned his "quiet, but strong, presence," and a third said he was "one of the great physical therapy scientists in the country if not the world."
One PT alum wrote in an email: "I'm glad I had the opportunity to get to know John after PT school. From time to time I hear John's words come out of my mouth when training my own Ph.D. student for presentations or thinking about defining her research questions. He had an indelible positive impact on so many."
Scholz's personal battle with cancer provided inspiration for one colleague: "He helped me navigate through my own brother's cancer and his eventual passing, and he did not even know my brother. This is such a tremendous loss to the profession, but perhaps more so to his friends and family. He was and will be a tremendous inspiration to all of us in the way he lived his life."
Scholz is remembered for refusing to give up in the face of a fatal disease and continuing to live his life to the fullest, from conducting research to taking long training rides on his bike, throughout debilitating treatments. In 2006, he cycled 100 miles in the Livestrong Philadelphia challenge, raising $15,000 for the cause.
Scholz received his degree in physical therapy from the University of Pennsylvania, a master's degree from the University of North Carolina at Chapel Hill, and his doctorate in experimental psychology from the University of Connecticut with an emphasis on motor control. His research focused on understanding the basic processes underlying movement coordination and on characterizing movement coordination in patients with motor dysfunction. Just a month before his death, he was the College of Health Sciences Researcher of the Month.
In 2011, Scholz was elected a Catherine Worthingham Fellow of the American Physical Therapy Association, which cited him as "a highly regarded movement scientist renowned for his ability to take complex theoretical concepts of motor control and apply them to the understanding and treatment of neurologic problems."
A physical therapy student scholarship fund has been established to honor Scholz's memory and his commitment to physical therapy education. Contributions can be sent to University of Delaware, Gifts Processing, 83 East Main St., Third Floor, Newark, DE, 19716. Make checks payable to "University of Delaware" and include on the memo line UD-Scholz Scholarship. Donations can also be made online at this website. Please note in the special instructions that the gift is in memory of Dr. John Peter Scholz.
For more information about the Scholz Scholarship, contact Binder-Macleod at sbinder@udel.edu.
Article by Diane Kukich