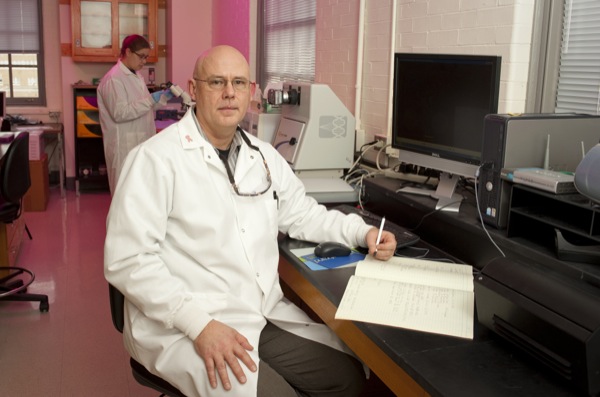 Donelan lecturer
UD researcher delivers annual talk at Dana-Farber Cancer Institute
11:49 a.m., Nov. 18, 2013--Kenneth van Golen, associate professor of biological sciences at the University of Delaware and a noted expert on inflammatory breast cancer, delivered the 2013 Susan E. Donelan Hope for the Future Lecture at Dana-Farber Cancer Institute.
The annual lecture series focuses on inflammatory breast cancer (IBC), a relatively rare, highly aggressive and much more deadly type of breast cancer than the typical form of the disease. As this year's invited lecturer, van Golen spoke on Oct. 2 at the institute and also met individually with researchers from its Women's Cancer Program.
'Resilience Engineering'
The University of Delaware's Nii Attoh-Okine recently published a new book with Cambridge University Press, "Resilience Engineering: Models and Analysis."
Reviresco June run
UD ROTC cadets will run from New York City to Miami this month to raise awareness about veterans' affairs.
In addition to his faculty position at UD, van Golen is a senior research scientist at the Helen F. Graham Cancer Center at Christiana Hospital.
Van Golen studies IBC, which is systemic and spreads rapidly through the lymphatic system. It often is misdiagnosed at first because it resembles an infection more than a traditional form of breast cancer and, because it accounts for just 1-9 percent of breast cancer cases, many doctors initially don't recognize it and try to treat it with antibiotics.
"Our approach is to figure out molecularly what's going on with this disease and then target specific pathways" to combat it, van Golen has said of his research.
Located in Boston, the Dana-Farber Institute is a principal teaching affiliate of Harvard Medical School and is a National Cancer Institute-designated Comprehensive Cancer Center, working with both adult and children's cancers.
Photo by Kathy F. Atkinson