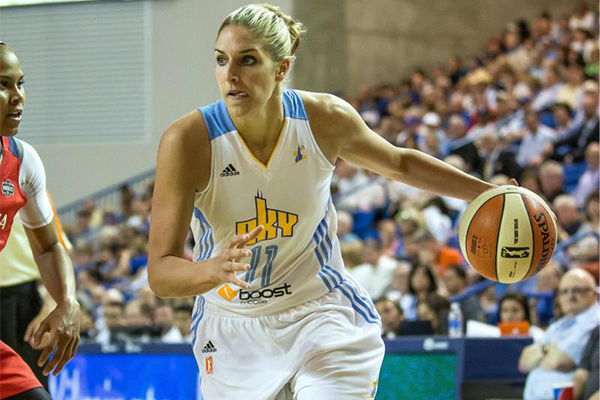 WNBA at UD
Chicago Sky's Delle Donne scores 17 points in return to Bob Carpenter Center
9:36 a.m., May 14, 2014--University of Delaware alumna Elena Delle Donne returned to a full house at the Bob Carpenter Center on Tuesday night, helping lead the WNBA's Chicago Sky to a 76-69 preseason victory over the Washington Mystics.
The contest was the first WNBA game played in the state.
Rower honored
University of Delaware junior Claire Brown has been named second team Collegiate Rowing Coaches Association All-Region.
Unsung Hero
The One Love Foundation has announced that University of Delaware men's lacrosse standout Elijah Conte has been selected as a winner of the 2016 YRL Unsung Hero Award.
Delle Donne finished with 17 points, 10 rebounds, three blocked shots and two steals.
A Chicago team news release noted that "from the moment the ball was tipped, the crowd was electric and the Sky were in attack mode."
The Sky jumped out to a 17-6 lead, with Delle Donne scoring the first two points and seven in the run.
She and Chicago point guard Courtney Vandersloot worked well together, with Vandersloot saying that Delle Donne "is a point guard's dream – you can give her the ball at any time and she's going to be successful."
Washington made a game of it through the third quarter, with a Delle Donne jumper giving the Sky a 57-56 lead heading into the fourth.
Delle Donne, the 2013 WNBA rookie of the year, had a stellar career at UD, leading the Blue Hens to the Sweet 16 in the 2013 NCAA championship tournament.
She was awarded the Senior CLASS Award and Honda Award in 2013, and was a first team All-American and National Player of the Year candidate in her junior and senior seasons.
Photo by Mark Campbell