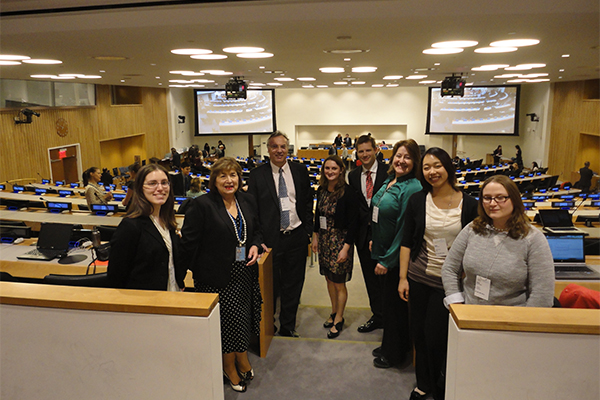 United Nations visit
UD students attend UN negotiations on marine areas beyond national jurisdiction
2:32 p.m., May 9, 2014--Nearly two-thirds of the world's oceans lack national jurisdiction, representing one of the world's last global commons. Rich in biodiversity, these areas play a crucial role in the functioning of marine ecosystems. 
Students from the University of Delaware College of Earth, Ocean, and Environment recently attended United Nations negotiations in New York on the management of Areas Beyond National Jurisdiction (ABNJ). Discussions focused on the scope, parameters and feasibility of potential international policy for the conservation of marine biodiversity.
Fulbright awards
Three University of Delaware students and an alumna have received word this spring that they will travel abroad as part of the newest class of Fulbright Student Program award winners.
Peace Corps plans
Two University of Delaware students, John McCarron and Bridgette Spritz, have been selected as Peace Corps volunteers and will serve in Ghana and Rwanda.
Students and faculty members Biliana Cicin-Sain and Miriam Balgos of the Gerard J. Mangone Center for Marine Policy joined more than 200 participants last month, including national delegations, non-governmental organizations and industry. Goals included identifying gaps in existing legal frameworks and examining the pros and cons of developing a possible new agreement on ABNJ under the United Nations Convention on the Law of the Sea (UNCLOS).
"Attending the negotiations gave me a much greater appreciation for what goes into the creation of policy on an international scale," said Taylor Daley, a marine science major. "It was exciting to be able to participate in such an active field of policy where many of the issues are unprecedented."
The advanced marine policy course, taught by Cicin-Sain, is the first graduate-level class offered specifically on the topic of addressing issues related to the governance of marine ABNJ. Participating in the U.N. meeting allowed students to gain firsthand knowledge of complex issues and become acquainted with leading diplomats and experts in the field. 
During the U.N. negotiations, Cicin-Sain spoke about her new project on enhancing the capacity of countries to use ABNJ resources in an effective and sustainable manner and the connection with the Convention on Biological Diversity's process for determining ecologically and biologically significant marine areas. The ABNJ provide critical ecosystem services, including nutrient cycling, carbon storage and ocean circulation, and they also are significant for fishing, shipping, telecommunications via submarine cables and potential new medicines. 
"It was a great experience for the class," said Adam Disque, a marine policy graduate student. "We were able to observe the issues we have been studying surrounding the ABNJ being applied and negotiated at the U.N. Witnessing a negotiation live gives an invaluable perspective, which is difficult to achieve in a classroom, so it was very worthwhile." 
A full summary of the meeting can be found here. 
Article by Alexis Martin, Erica Wales and Taylor Daley
Photo courtesy of Taylor Daley