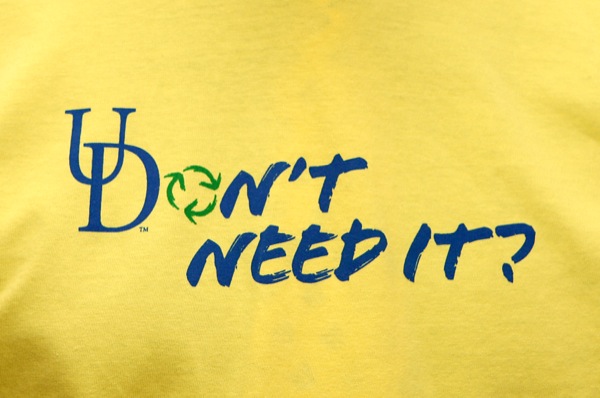 Moving out
'UDon't Need It?' student move-out program begins May 21 at STAR Campus
12 p.m., May 14, 2014--The University of Delaware and the city of Newark have joined forces once again to offer the eighth consecutive year of the "UDon't Need It?" student move-out program, now at its new location at the Science, Technology and Advanced Research (STAR) Campus at 540 S. College Ave.
The program was originally developed to take control of the overwhelming amount of household goods disposed of each spring by departing university students. It has also become a charitable event.
June 6: UDid It! Picnic
All UD faculty and staff members are invited to attend the annual UDid It! employee appreciation picnic, set from 11 a.m.-1:30 p.m., Monday, June 6, on The Green.
2FA protects you
If you are using two-factor authentication (2FA), even if a hacker has your password, your information is probably safe.
A large amount of the captured furnishings and home goods are put into the hands of people who need them. 
The program will start accepting student deliveries on May 21. Sales of items that remain after the program fills the many needs of local charities are slated for June 4-7.
Tom Coleman, Newark Public Works and Water Resources director, says, "We have been very successful at reducing the amount of re-usable items that end up in the landfill and by working with charitable organizations. This program exemplifies the great work Newark and the University can do together for the good of the overall community."
Partnering and supporting organizations include the Food Bank of Delaware, Better World Books, the Delaware Solid Waste Authority, Goodwill of Delaware, and Clean Harbors.
Details about the program including hours of operation are available on Newark's website.
For additional information, contact the Newark Public Works and Water Resources Department at 302-366-7055.