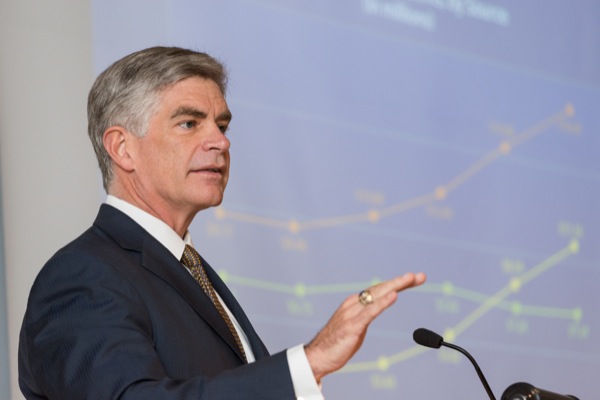 UDARF address
President discusses Delaware First commitment during UDARF luncheon
9:47 a.m., May 29, 2014--University of Delaware President Patrick Harker discussed key institutional initiatives with members of the UD Association of Retired Faculty at the group's regular luncheon held Tuesday, May 20, in Clayton Hall.
Topics included work on a new strategic plan, supporting the educational aspirations of students from the First State, and growing UD's reputation as a major American research university. 
'Resilience Engineering'
The University of Delaware's Nii Attoh-Okine recently published a new book with Cambridge University Press, "Resilience Engineering: Models and Analysis."
Reviresco June run
UD ROTC cadets will run from New York City to Miami this month to raise awareness about veterans' affairs.
"We are in the process of rebooting our strategic planning effort," Harker said. "Domenico Grasso, our new provost, is leading that effort and there is a lot of enthusiasm about this activity."
Harker noted that 170 faculty members have volunteered to serve on various committees to plan the next phase of the University.
"That gives you a sense that people really want to participate," Harker said. "I encourage each and every one of you to participate, too. The committee will be more than happy to hear your views about where we are as a University."
A series of town hall meetings also are being held in conjunction with the strategic planning process, Harker said. 
"What we wanted to do is step back a little bit and take a look at where we are, what we need to do, and what we need to keep focused on," Harker said. "We also need to look at what's different today than it was seven years ago." 
When UD's Path to Prominence strategic plan was launched in 2008, one of its guiding principles, Delaware First, was adopted to ensure that residents would receive an affordable, top-quality education through UD's Commitment to Delawareans program, Harker said.
"We are Delaware's land grant university, and we are here to serve the state," Harker said. "We actually back up that commitment in the community with real dollars."
Harker noted that while financial aid to Delawareans attending UD has grown from $2.6 million in fiscal year 2009 to $11.6 million in fiscal year 2014, the state's commitment has remained at $7.2 million per fiscal year during the same period.
"This increase in financial aid came from our operating budget in order to help families in Delaware obtain a UD education for their children," Harker said. "The families responded to this, and about 2,800 of our in-state students (43 percent) take advantage of this."
The implementation of the Commitment to Delawareans and its financial aid plan coincided with the beginning of the worst recession in U.S. history, Harker said.
"Families were looking for values in education, and they didn't have to look far," Harker said. "The could just look in their own back yard and see that we are a very high value, high quality option for their children." 
AAP a value
Harker also lauded the UD Associate in Arts Program (AAP), where students take courses taught by UD faculty on the campuses of Delaware Technical Community College in Wilmington, Dover and Georgetown.
Delaware SEED scholarships are provided by the state of Delaware and cover tuition for full time students enrolled in the AAP.
Students completing the required coursework earn an associate's degree. Courses taken are recorded on the student's UD transcript and count toward completion of a UD bachelor's degree. 
"This has been an absolute success, and provides a low cost path to a high quality degree," Harker said. "We have gone from 52 percent of students who complete the course requirements in three years to 65 percent, which is almost triple the national average." 
About 96 percent of students who began their AAP enrollment in 2010 have gone on to enroll at UD's Newark campus, Harker said. 
"For those families who are struggling, this is an incredible path toward an education, because the AAP students receive state grant money and then they come here to complete their college education," Harker said. "I'm very proud of the University and I think we and the community do an exceptional job in providing access to Delawareans." 
Student success
Harker also noted that the prolonged recession has coincided with a rapid increase in the number of first generation and low-income students, raising issues of financial aid and continuing student support.
"This isn't just about admissions, but it's about making sure students are successful while they are here," Harker said. "It's not just about bringing them to campus, but making sure that they leave here and that they are successful in whatever career they want to pursue." 
Diversity
Retired faculty members also were briefed on the need for increased efforts in gender equity and diversity and growing UD's presence reputation as a major American research university.
"There will always be things on our to-do list, like diversity and other areas like our graduate student program," Harker said. "We also need to step back and look at the landscape of American education and see how we are going to change because we are a part of it." 
Article by Jerry Rhodes
Photo by Evan Krape