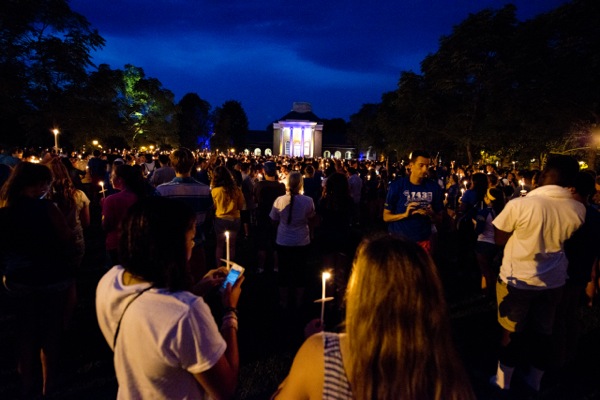 Twilight ceremony speakers
UD undergrads invited to apply to be Twilight Induction Ceremony speakers
11:31 a.m., May 9, 2014--The University of Delaware 1743 Welcome Days Planning Committee has announced that interested freshmen, sophomores and juniors are invited to apply to be a student speaker at this fall's Class of 2018 Twilight Induction Ceremony to be held on Monday, Aug. 25.
The Twilight Induction Ceremony for new students began in fall 2012 during 1743 Welcome Days, and it serves as the official institutional welcome to all new students. 
June 6: UDid It! Picnic
All UD faculty and staff members are invited to attend the annual UDid It! employee appreciation picnic, set from 11 a.m.-1:30 p.m., Monday, June 6, on The Green.
2FA protects you
If you are using two-factor authentication (2FA), even if a hacker has your password, your information is probably safe.
Each year several student leaders are selected to speak to new students during this ceremony about what being a Blue Hen means to them.
Being a student speaker in the Twilight Induction Ceremony is an opportunity few students will have during their time at the University of Delaware. The selected student speaker will be someone who is actively engaged in the campus community; excited to welcome new students to UD; willing to serve as a role model for new students; and is proud to be a Blue Hen.
To be considered, students:
Must be in good academic and disciplinary standing with the University.
Must have and maintain a minimum 3.0 cumulative GPA.
Must possess strong communication skills.
Must display professionalism and school spirit.
Must be a current University of Delaware freshman, sophomore, or junior.
Applications will be reviewed by Student Life staff, and multiple finalists will be asked to meet with the 1743 Welcome Days Leadership Team for approximately 30 minutes.
Once final decisions are made, the selected student speaker(s) will meet with the event organizers to finalize their remarks prior to the event in August.
Applications are due by 4 p.m., Monday, May 19. Click here to apply.
Finalist meetings with the 1743 Welcome Days Leadership Team will be held May 20-22, and notification will be made May 23.
The Class of 2018 Twilight Induction Ceremony will be held from 7-8:30 p.m., Monday, Aug. 25, with rehearsal at 6 p.m.