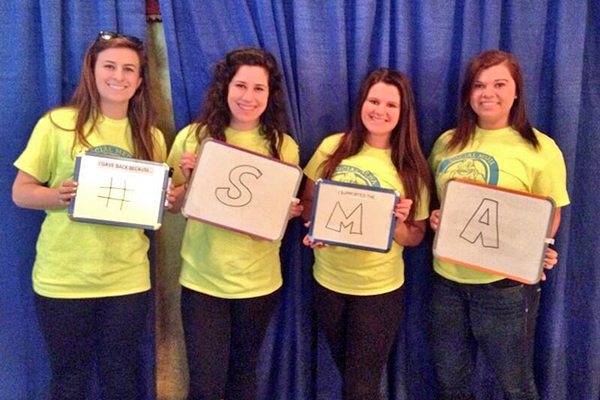 Social Media Ambassadors
UD's Social Media Ambassador program accepts applications for fall semester
12:54 p.m., May 8, 2014--University of Delaware Social Media is now accepting applications from students interested in joining the Social Media Ambassador (SMA) program for the fall 2014 semester.
Students from all majors interested in social media, blogging, video production, marketing, photography and event planning are invited to apply.
June 6: UDid It! Picnic
All UD faculty and staff members are invited to attend the annual UDid It! employee appreciation picnic, set from 11 a.m.-1:30 p.m., Monday, June 6, on The Green.
2FA protects you
If you are using two-factor authentication (2FA), even if a hacker has your password, your information is probably safe.
The University's SMA program, overseen by UD's Social Media team in the Office of Communications and Marketing, is a unique and fun opportunity for students to gain professional social media experience before graduating.
SMAs are given official Blue Hen Twitter accounts to share their experiences at Delaware with fellow and prospective students. They work as a team to create and curate fun, engaging content for the Blue Hen Says Facebook and Twitter accounts, as well as other official UD accounts.
SMAs also gain special access to cover a variety of campus events, such as VIP passes to UD football and basketball games, "tweet seats" at performances by the UD Resident Ensemble Players, and press passes to cover campus visits by famous speakers.
SMAs serve an important role in the University's greater communications efforts by helping promote major initiatives and outreach campaigns. In the past, SMAs have drummed up excitement about UDance and provided coverage during the 2014 NCAA basketball tournament. 
Additionally, SMAs have special access to professional development opportunities, including networking events and tips from some of UD's communications experts.
"The SMA program has provided a way for me to combine my love for social media with my passion for getting fellow students more involved in what our campus has to offer," said Andrea DeMaio, a senior SMA. "It has also exposed me to a lot of great networking opportunities and skill workshops that have greatly enhanced my college experience."
Required monthly meetings serve as a time for the entire group to convene, get to know one another and receive information and tips from the UD Social Media Team. The meetings are held once each month during fall and spring semesters on Tuesdays, from 3:30-4:30 p.m.
"The great thing about the SMA program is that it's up to the students to take advantage of the amazing resources provided to us. SMA's can make a genuine impact on the UD community and on their own professional development," said senior SMA Joey Silver.
Spring SMA applications are now being accepted. The deadline to complete the online application is Friday, June 6, at noon.Accepted applicants will be contacted over the summer. 
Current SMAs will be stationed on the Trabant University Center patio on Tuesday, May 13, from 11 a.m.-3 p.m. to chat with interested students.
Inquiries can be sent to socialmedia@udel.edu.