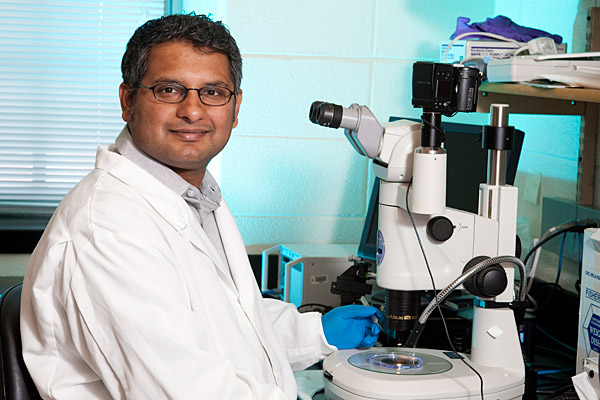 Senior Thesis Mentoring Award
Lachke honored for helping students experience 'transformational power' of research
9:56 a.m., May 7, 2014--At the University of Delaware's Senior Thesis Symposium on May 3, Salil Lachke, assistant professor of biological sciences, received the 2014 Senior Thesis Mentoring Award from the Office of Undergraduate Research and Experiential Learning (UREL). 
Lachke was nominated by one of his mentees for inspiring students through his own dedication to learning and for the ways in which he encourages their development as scientists in training. 
National Medal of Science
President Barack Obama recently presented the National Medal of Science to University of Delaware alumnus Rakesh Jain.
Warren Award
Rosalind Johnson, assistant dean for student success in the NUCLEUS Program in UD's College of Arts and Sciences, was presented the John Warren Excellence in Leadership and Service Award during a May 26 ceremony.
In his own letter to the selection committee, Lachke described his belief in the fundamentally collaborative nature of science in the 21st century and his commitment to giving students "an optimal balance of advisement and supervision while providing them independence and vision to explore the exciting possibilities that may be available in their specific research projects." 
Lachke's mentees have gone on to present their work at national meetings and have taken top awards at the Annual Undergraduate Research Symposium in the Chemical and Biological Sciences in both 2012 and 2013. 
Iain Crawford, associate professor of English and UREL faculty director, commented that the selection committee faced a pleasantly challenging task to choose among so many outstanding nominees.
"All of them exemplify the outstanding work UD faculty do with undergraduate researchers, and any one of them would have been a very worthy recipient of the award," Crawford said. "Dr. Lachke stood out for his exceptional work and the ways in which he is committed to helping students experience the transformational power of their research experiences."