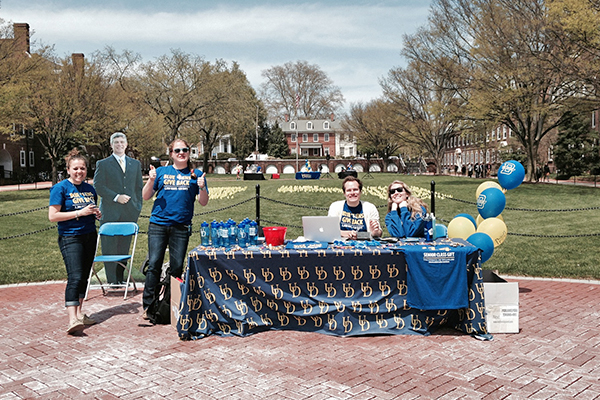 $20.14 for 2014
University of Delaware seniors make 2014 class gifts
10:15 a.m., May 2, 2014--Some students stopped by for the cotton candy. Others for the T-shirt. 
And then there were seniors like Alexis Miller who happily grabbed both, but not without giving something in return. 
From graduates, faculty
As it neared time for the processional to open the University of Delaware Commencement ceremonies, graduating students and faculty members shared their feelings about what the event means to them.
Doctoral hooding
It was a day of triumph, cheers and collective relief as more than 160 students from 21 nations participated in the University of Delaware's Doctoral Hooding Convocation held Friday morning on The Green.
Miller, a senior communications major from Havertown, Pennsylvania, was one of dozens of students who made contributions to the University through the inaugural 14 on The Green.
The event, conceived of and created by members of the Senior Class Gift Council, promoted the Class of 2014's senior class gift campaign. 
Taking place on the North Green on April 28, the focal point of the event was a large "14," made up of 1,000 yellow yard flags. To complement the '14, a DJ played music while students answered UD trivia, ate cotton candy and picked up T-shirts, water bottles and other Class of 2014 swag.
Miller, who called her four years here "the best part of my life," made a gift of $20.14 in honor of her class year. 
As did Sean McDaniel, a computer sciences major from Wilmington, who will spend the summer working in a national research laboratory to test ways of making super computers even faster. He graduates this spring and plans to apply to the University's Ph.D. program. 
"I've received so many incredible opportunities," McDaniel said, citing his faculty mentors and his fully-funded summer fellowship as two such examples. "I definitely feel I owe it to UD when I think about all I've gotten out of my time here."
The Senior Class Gift campaign seeks to raise $20,000 from 30 percent of the graduating class. Gifts of any size are welcome and can be directed to more than 2,000 different campus-wide initiatives.
Gifts can be made online, and seniors are encouraged to visit www.udel.edu/seniors for more information.