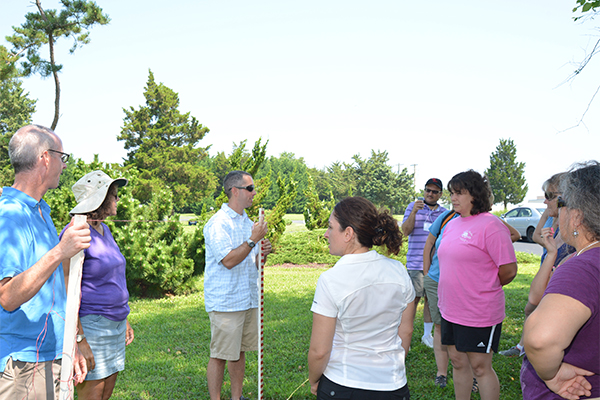 Bay to bay
Delaware Sea Grant to guide teachers across Delmarva Peninsula for watershed training
2:57 p.m., May 6, 2014--Watersheds — areas where streams, rivers and groundwater all flow to the same end location — are covered in Delaware's middle school science classes. Science teachers are constantly looking for ways to make watershed education relevant to students through links to their local communities. 
The Delaware Sea Grant College Program (DESG) is offering a new professional development training this summer to improve teachers' instruction about watersheds. 
From graduates, faculty
As it neared time for the processional to open the University of Delaware Commencement ceremonies, graduating students and faculty members shared their feelings about what the event means to them.
Doctoral hooding
It was a day of triumph, cheers and collective relief as more than 160 students from 21 nations participated in the University of Delaware's Doctoral Hooding Convocation held Friday morning on The Green.
Teachers will travel across the Delmarva Peninsula's widest stretch during a five-day journey, starting at Poplar Island in Maryland and winding up at Cape Henlopen in Delaware. Along the way they will compare Chesapeake Bay and Delaware Bay watersheds, examine plants and animals, measure water quality and learn about the area's history, culture and economy.
"We'll be looking at watersheds from an interdisciplinary point-of-view," said Chris Petrone, DESG marine education specialist. "We'll explore the science of watersheds, how people use watersheds to build the economy and historical links to watersheds in the region."
Planned stops include a tour of Poplar Island, which is being rebuilt with dredged material from shipping lanes near Baltimore, and a kayaking excursion along Chesapeake Bay. Participants will learn about watershed issues from experts at the Phillips Wharf Environmental Center, the Oxford Laboratory, Cape Henlopen State Park and other destinations. 
Sampling data from hands-on activities will be entered into National Geographic's FieldScope, a web-based mapping tool that teachers can use after taking their own students on field trips. 
Much of the content from the course can be integrated into teachers' existing lesson plans, but exposure to trip locales can also spur ideas for outdoor learning opportunities and service learning projects like waterway cleanups. 
"This builds teachers' content knowledge and expertise in the field, and that can enhance what they're already doing," Petrone said. "But the program also provides resources and training on how to take kids outside, in the hopes that they can add something new to their curriculum."
Educators will discuss the societal value of watersheds, such as transportation, city water supplies and ecosystem health. Economic activities, such as shipbuilding and the exportation of holly wreaths, helped communities grow in the past but also had a detrimental impact on watersheds.
The goal is to expose teachers to those kinds of issues and ideas, Petrone said. The program includes time for journaling and blogging so teachers can reflect on what they've learned and articulate ways in which they may integrate new material in their classrooms.
"Teachers often lack knowledge of watershed science and confidence in conducting field experiences with students," Petrone said. "This project aims to build interdisciplinary content knowledge in watershed science and Delmarva history and culture." 
The course, titled "Bay to Bay: A Multidisciplinary Watershed Investigation Across Delmarva," is supported by a grant from NOAA's Bay Watershed Education and Training (B-WET) environmental education program.
Participating teachers will earn 40 clock hours toward professional development requirements. Lodging, meals and transportation during the week are included.
To learn more and register for course, click here. 
About Delaware Sea Grant
The University of Delaware was designated as the nation's ninth Sea Grant College in 1976 to promote the wise use, conservation and management of marine and coastal resources through high-quality research, education and outreach activities that serve the public and the environment. UD's College of Earth, Ocean, and Environment administers the program, which conducts research in priority areas ranging from aquaculture to coastal hazards.
Article by Teresa Messmore
Photo by Lisa Tossey