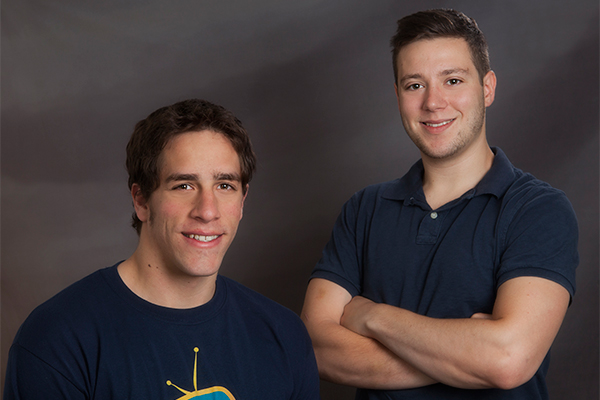 Research role models
LabTV platform for student-produced video portraits of biomedical researchers
11:28 a.m., May 15, 2014--TV has some new stars, but they're not actors or athletes, dancers or decorators. And they're not on ESPN, HGTV, or the Food Network.
They're scientists, and they're on LabTV, a new project supported by the National Institutes of Health (NIH) and Google.
Chronic wounds
UD's Millicent Sullivan and Kristi Kiick have received a $1.4 million grant from the National Institutes of Health for research that could provide a new approach to the treatment of chronic wounds.
Prof. Heck's legacy
The American Chemical Society is highlighting the legacy of the late Nobel laureate Richard Heck, the Willis F. Harrington Professor Emeritus of Chemistry at the University of Delaware with a digital tribute on its publications website.
The University of Delaware was one of the first schools selected to participate in the project, and two UD students recently won semifinalist honors for their video profiles of biomedical researchers in LabTV's first competition.
Charlie Chalkin, a senior mass communication major, and Jason Hewett, a junior majoring in English, were among 20 students from more than 200 entrants who received awards, which were announced at the Tribeca Film Festival. 
Chalkin profiled Danielle Kirkman, a postdoctoral researcher studying the effects of exercise on vascular function, and Hewitt filmed Prathamesh Kharkar, a doctoral student who is investigating the use of hydrogels for delivery of cancer-fighting drugs.
"Ever since the launch of Sputnik in the late 1950s, people have been asking 'what's next?'" says David Hoffman, executive producer of LabTV. "We believe that biomedicine, which brings biology and information technology together, will be that next 'Sputnik moment.' When you combine cells with computers, you create something radically new, but for it to be successful, you need hundreds of thousands of engaged students. That's why NIH has opened the doors to 40,000 labs across the country through LabTV."
"One of the challenges in creating video portraits of lab researchers is casting the talent," Hoffman adds. "Charlie Chalkin and Jason Hewett profiled first-rate characters that other students will listen to."
Through their videos, both Chalkin and Hewett successfully tell the life stories and convey the passions of the researchers they profile, with the science and technology playing secondary roles in those stories.
Kirkman was born in Zimbabwe, spent 10 years in Wales, and then came to the U.S., where she is now conducting patient-centered research with Dave Edwards, associate professor in the Department of Kinesiology and Applied Physiology. She has a passion for working with people, which is evident as she chats with a research participant who recently went back to college to pursue her dream of being a writer.
"Danielle was the perfect candidate," says Chalkin. "She was interesting, had a great background story, and did well on camera. The project was a lot of fun, and it allowed me to work with people whom I normally would not get to work with."
Hewett's film starts off with Kharker joking about his teenage career plans to play professional cricket or swim competitively, but it quickly moves on to show the grad student's excitement about his work with Kristi Kiick, professor in the Department of Materials Science and Engineering. Kharker can't hold back a smile as talks about cells that are happy and reactions that work.  
Hewett gives his subject a lot of the credit for the finished product.
"I might have asked some good questions, and I had a great cameraman, Zack Bend, but I think Prathamesh is the reason the film was successful," he says. "Not only is his research fascinating, but he's a really nice guy with an interesting personal story as well. He's a great storyteller and really good at explaining things to people like me who have a very basic understanding of science."
In addition to student participation in the program at UD, Lydia Timmins, assistant professor of communication and an expert in video production, has provided loaner camera equipment to participating filmmakers. The response from student filmmakers and researchers has been so strong that LabTV invited Timmons to develop a tutorial video for the program.
About LabTV
LabTV was launched at 100 selected universities but will eventually include more than 3,000 institutions. The channel, which will officially go public on June 1, will feature thousands of short films on young medical researchers working in NIH-funded labs across America, with the goal of making it easy for prospective young scientists to find role models. 
The films, all created by student volunteers, enable students to connect to researchers. New films will be added daily as the program develops.

LabTV is supported by the National Institutes of Health and Google.
Article by Diane Kukich
Photo by Ambre Alexander Payne