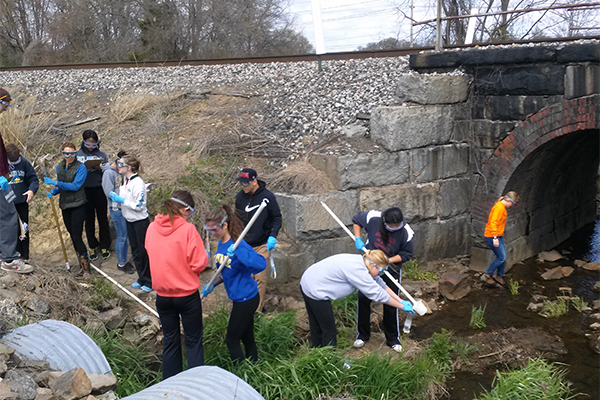 Interdisciplinary research
ISE Lab students mark Earth Day with environmental studies on campus
11:28 a.m., May 9, 2014--Students from the University of Delaware's Interdisciplinary Science and Engineering Laboratory (ISE Lab) marked Earth Day by conducting interdisciplinary environmental research on campus.
"It was a very nice change in scenery to be out of the lab room for once," said Andre Freligh, a freshman biological sciences major. "It was so great to actually physically be out in the field collecting data for a lab that doesn't have predetermined answers."
From graduates, faculty
As it neared time for the processional to open the University of Delaware Commencement ceremonies, graduating students and faculty members shared their feelings about what the event means to them.
Doctoral hooding
It was a day of triumph, cheers and collective relief as more than 160 students from 21 nations participated in the University of Delaware's Doctoral Hooding Convocation held Friday morning on The Green.
Freligh is among 330 students enrolled in the Integrated Introductory Biology/Chemistry (BISC208/CHEM104) course this semester who participated in a two-week laboratory module that included field lab experience to investigate water quality on the College of Agriculture and Natural Resources farm property on South Campus.
The integrated general biology/chemistry courses are new offerings as of the 2013-14 academic year and are aimed at life science majors. The interconnectedness of chemical and biological concepts is demonstrated and interwoven between the courses.
Here, teaching assistants, preceptors and faculty members strive to link theoretical knowledge and hand-on activities. In this way, a representative of the program said, the course structure differs from the more traditional non-integrated versions of general biology and chemistry, where interdisciplinary connections may not be the central focus.
Students registered for the integrated biology/chemistry courses are required to enroll in both classes simultaneously and therefore attend lectures and labs in both disciplines. This has resulted in the formation of tightly knit study groups where teamwork and communication skills may be enhanced.
A team of instructors including faculty, preceptors, teaching assistants and peer leaders work with students to promote a learner-centered environment through class lectures and activities, studio sessions, labs and workshops. 
The structure of this new course is facilitated by the state of the art facilities and equipment available in ISE lab.
The integrated nature of this course allows for unique learning opportunities for the students to cross disciplines and synthesize their knowledge, the representative said.
During the fall semester, students investigated chemical structures of plant pigments in relation to the essential biological roles of these compounds. Additionally, chemical properties of sunscreen were investigated in the context of protecting eukaryotic cells from damage caused by UV light exposure.
As an example of curriculum integration, students this semester were tasked with investigating the water quality of three water sources on the South Campus through a series of biological and chemical tests. 
The two-week biology and chemistry lab module was developed primarily by preceptors Meredith Biedrzycki and Breonna Martin with the considerable help of Trevor Daly and senior laboratory staff members Judi Free and Ken Chen.
It began with a field lab experience in which the students collected water samples from three tributaries on the UD Farm. On-site measurements such as habitat observations, pH, water temperature, flow rate, and dissolved oxygen were recorded streamside. 
Students then returned to the ISE Lab over the next week to further investigate factors such as insect and microorganism biodiversity, bacterial counts, alkalinity, nitrate, phosphate, and iron concentrations in the water. 
The students will share their data and outcomes formally through digital scientific posters and oral presentations as a capstone final project. The goals of this lab module were to illustrate the true interdisciplinary nature of research to students as well as to provide many with their first field lab experience where they were conducting research with the potential to impact their campus community.
Lauren Kerbel, a sophomore major in exercise science, said "integrating both subjects helped me understand the environmental conditions better because they are both connected; that is one affects the other. In chemistry, I would only focus on the chemicals and compounds that are present in the water. While in biology I am only concerned learning about the living organisms present in the water. However, integrating both chemistry and biology concepts I was able to visualize a bigger picture and learn how both the chemicals and the organisms affect each other rather than just focusing on one subject."
Given the positive responses from students and instructors, there is hope to build on this interdisciplinary lab module in future semesters, the program representative said.
Mark Baillie, assistant professor of chemistry and biochemistry, agreed, saying, "It was fantastic to see students express concern for the stream health and realize that they could apply their knowledge of ecology, biodiversity and chemical equilibrium of all sorts to this field investigation. Many students seemed to enjoy the change of scenery, asking 'why aren't all of our labs outside?' We couldn't ask for a better response from our students."