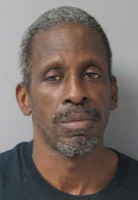 Arrest in sexual assault case
UD Police arrest man in sexual assault of coworker
10:25 a.m., May 29, 2014--University of Delaware Police have arrested a contracted Dining Services employee after an investigation revealed that he had unlawful sexual contact with a coworker.
Mark W. Mitchell, 57, of Wilmington, Del., was arrested May 17 and charged with one count of third degree rape, one count of attempted third degree rape, four counts of third degree unlawful sexual contact and four counts of sexual harassment. 
He was committed to the Howard R. Young Correctional Institution in lieu of $54,100 cash bail, and has been ordered to have no contact with the victim or with the University. 
For members of the UD community who experience sexual assault, intimate partner violence or stalking, the  University's Sexual Offense Support (S.O.S.) program provides crisis support  and victim advocacy and is available 24/7 by calling 302-831-2226 or online  at http://www.udel.edu/sos.
Visit this website to receive a UD Crime Alert email whenever an article about a police investigation is posted on UDaily. 
Photo courtesy of University of Delaware Police