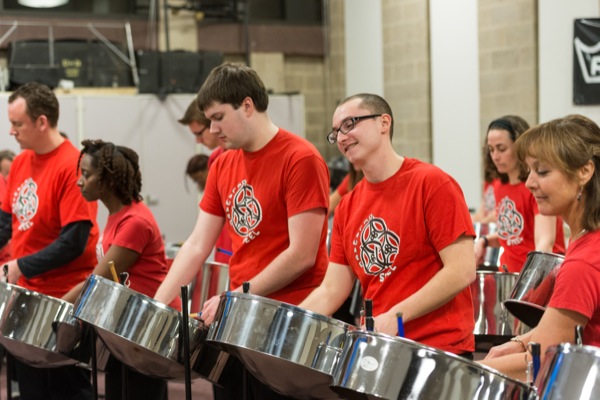 Musical spring breaks
Delaware Steel, music students travel the world during spring break
9:44 a.m., May 16, 2014--During this year's spring break, 24 members of Delaware Steel, the University of Delaware Department of Music's elite steel pan band, traveled to Vienna, Austria, where they presented workshops and concerts to audiences that often had never before heard a live steel drum performance.
The trip was made at the invitation of the Johann Sebastian Bach Musikschule (Bach Music School), whose director, Hanns Stekel, heard the UD ensemble two years ago at the 2012 International Society for Music Education World Conference in Greece.
Fulbright awards
Three University of Delaware students and an alumna have received word this spring that they will travel abroad as part of the newest class of Fulbright Student Program award winners.
Peace Corps plans
Two University of Delaware students, John McCarron and Bridgette Spritz, have been selected as Peace Corps volunteers and will serve in Ghana and Rwanda.
Steel pan is — almost literally — unheard in Vienna, and there are no steel drum bands in the country. Stekel wanted to create the opportunity to expose his school's more than 2,000 classical music students to the instrument.
Traveling with a steel band means completely rethinking the idea of luggage restrictions. Delaware Steel, which is led by Harvey Price, associate professor of music, traveled to Vienna with 56 instrument cases, the largest of which were the bass drums made from steel oil drums.
Trip planning required contacting airlines in advance, confirming appropriate ground transportation and securing safe storage at the destination. The group could take only direct flights, as there was no reliable way to transfer the instruments from one plane to another. 
In addition, Price always travels with extra drums that can be left behind, building the instrument's reputation and accessibility every time he visits a new country. 
For five days, the members of Delaware Steel presented four workshops and at least two concerts a day in schools and community centers throughout Vienna. For UD students, it was the chance to live as full-time musicians for a week, a dream come true for some of them.
They couldn't have asked for better or more appreciative audiences, Price said, noting, "Vienna is a very open city musically; they accept anything." 
For the students, the trip was also the chance to see how people relate to music in a different part of the world. Graduate music education student Jessica Eastridge said she was impressed that even young schoolchildren were quiet during the performance, and that they all recognized the Mozart piece the band played. 
Undergraduate music major Julie Falango described creating "Carnival in Austria," when the band took advantage of good weather to play an impromptu outdoor concert that attracted a huge crowd eager to see what was making this new sound. 
Plans are in the works to bring Stekel and some of his students to UD this fall to continue the relationship between the two schools and share more musical exchanges.
Intercultural class visits Sweden
Also during spring break, a group of music education students visited Örebro, Sweden, as part of the yearlong "Intercultural Course on Music, Art, Education and Culture."
Music education faculty members at UD and Örebro Universitet designed the class with a primary goal of enabling students to learn about and better understand the music, art, education and culture of their international counterparts, as well as that of their own country.
During the school year, six students from Delaware and four from Sweden used videoconferencing to bridge the distance between the two countries and participated in two 10-day cultural immersion experiences. The first experience occurred when the Swedish students and faculty members visited Delaware, and the second came during UD's spring break when students from Newark traveled to Sweden with music Profs. Suzanne Burton and Russell Murray, chair of the department.
Students lived with one another in their flats or dorm rooms. Together, they observed and participated in a wide range of music classes in public and private schools and community settings, in both countries. They attended classes specifically related to each country and took part in cultural excursions such as guided historical tours and visits to museums, concerts and musicals.
Being immersed in a number of unfamiliar cultural and music education practices, then returning home to the status quo created conditions for participants to examine their beliefs about music education and educational systems in general, Burton said, and to begin to think differently about music education and their futures as school music teachers.
Photo by Evan Krape